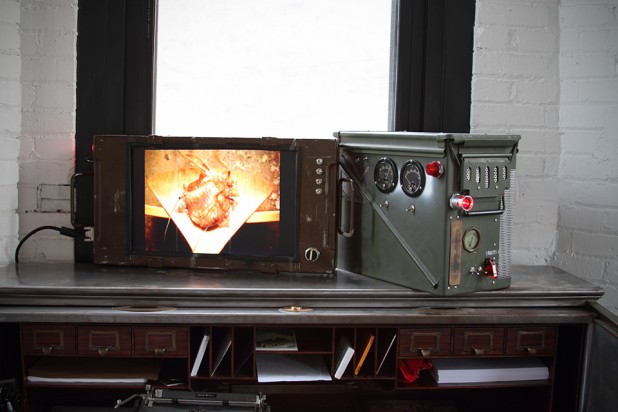 The Bolt Custom Computer | US$na | www.theblackwheelcompany.com
if you think serious computing, be it insane gaming or pure computing, is a manly kind of thing, then we thought this custom personal computer from The Black Wheel Company might tickles your fancy. dubbed The Bolt (not to be confused with the cute animated dog), this PC has a chassis fashioned out from a vintage U.S. military ammunition box that despite its size, packs in standard computer hardware in them. the chassis military-flair doesn't stop at the ammo box. functional red lamps and an extremely cool switch complete with 'safety' cover gives it a very 'military base' feel. beyond the visuals, this uber cool custom PC includes your usual garden variety of micro ATX main board, ATX power supply, graphics card, HDD as well as an optical drive. as with all great custom, The Bolt's CPU 'tower' offers access to all the main board's I/Os, located at the back of the ammo case and ample mesh to facilitate cooling.
we bet you already took notice of the large analog gauges adorning the exterior of the ammo box. these are not just for show, they are actually hooked up to display the processor usage and the smaller antique thermometer up front displays the internal case temperature. overall, it have an old-school, throwback feel to it. kind of nam kind of style. finally, several salvaged toggle switches (another manly touch there) gives control to the gauge's backlights and an internal flickering, flame-like light. super awesome stuff. this particular example was a work done by The Black Wheel Company a while back and actual specifications are kind of dated and speaking of which, it is not for sale as-is per say but the company does do customization for every conceivable electronics include Point-of-Sale systems, telephones, televisions, computers and among the many others. needless to say, we are super impressed (beyond words, that is). unfortunately, we do not have more images to show but invite you to click on the images above and below for a couple of larger views. you can learn more about The Black Wheel Company's works HERE.