(image credit: Core77)
Henry O. Studley (1838-1925), an organ and piano maker by trade, made this amazing tool cabinet that is said to contain nearly 300 tools in a highly organized manner. the cabinet measures 40 inches tall (101.6 cm), 20 inches across (50.8 cm) and 9 inches deep (22.86 cm), was made from mahogany, rosewood, walnut and ebony. apparently, the cabinet is so heavy that it requires three strong man just to lift it up.
check out the video after jump and see the short but awesome introduction of this wonder of the tools world. i bet this cabinet is going to make all avid home improvement enthusiasts drool uncontrollably. though, Henry did designed the cabinet more for piano making tools. nevertheless, the Henry O. Studley tool chest is definitely a dream tool cabinet for all DIY-ers and home improvement enthusiasts.
just look at those tools. wow. i must restraint my drool…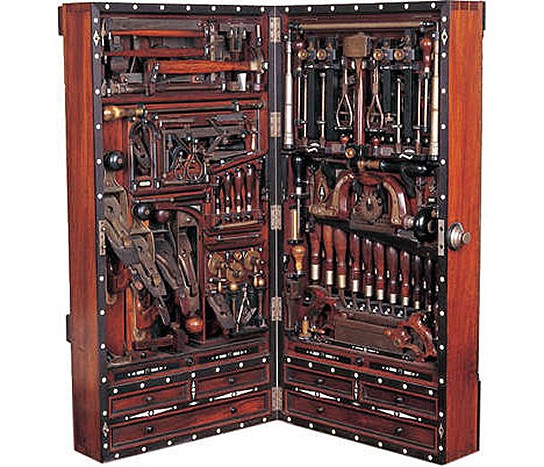 (image credit: Core77)

via Core77