(credit: TiGr) TiGr Bicycle Lock | from US$100.00 | tigrlock.com
avid cyclist and lock inventor John Loughlin has diligently devised a new way of locking up your beloved bike. the product he invented is simply called TiGr. made out of titanium, hence the name 'Ti', this bike lock consists of two parts: the long 'U' shaped like bow with latching ends and a high security lock cylinder. the flexible and strong nature of titanium makes it perfect for this application. the longish bow allows for locking of both the wheel and the body together to a variety of permanent structure like the lamp post and depending on the size of bicycle, it can even lock both wheels with the frame.
[ad#Google Adsense-text-468×60]
the lock body is precision machined from 304 stainless steel while the lock mechanism uses "a highly pick-resistant" robust rotary disc key mechanism. when not in use, the bow is stored on the top tube with a simple straps (as seen in the video). John has assured that the bow has a protective coating to protect it from your lovely bike too. however, i have one concern about separate 'storing' of the lock cylinder and the bow. the cylinder, being small, might be easily be misplaced. the TiGr is available in two widths: the .75-inch and 1.25-inch while the lock is available in either the stainless steel or titanium body.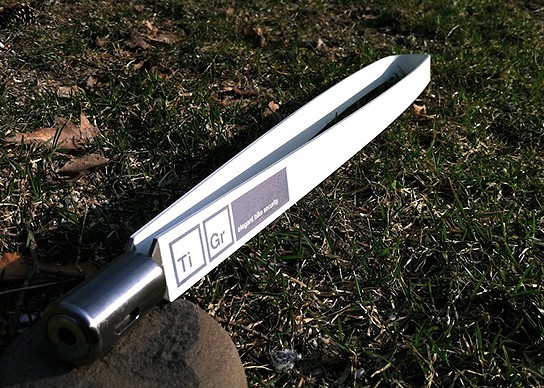 John is seeking support to make this product a reality via kickstarter and you can show your support by making a pledge of at least $100. however, at the time of this posting, the fifty slots available for the $100 or more pledge has been taken. in fact, TiGr has an overwhelming response and has well surpass its goal of $37,500 with 15 days to go. this proves that the TiGr is something that many cycling enthusiasts has been looking for.
currently, the minimum pledge to ensure a TiGr lock system is $150 which you will get a 'Kickstarter limited edition of the TiGr Lock System" as built by John, including the 0.75″ x 24″ Titanium bow with custom laser etched graphics designed by Joshua A.C. Newman, along with a high security lock cylinder incase in stainless steel housing, mounting straps, a cotton T-Shirt designed by Joshua and a titanium key chain. head on down to John's Kickstarter page to see what are the available options for you.