usually folks who keep old cars are serious car enthusiasts, or they just can't be bothered to make the change. either way, they are highly unlikely to give their rides any drastic makeover. however, if you beg to differ and has a BWM E30 sitting in your garage, then you might want to consider giving it a radical styling with the TM concept30 kit. so yes. the car featured here is actually a BMW E30, which still bear a tinge of the original's 'flavor' but very much 'future-ready' as far as aesthetic is concerned. first announced by TMCars about a year and half ago, the kit is finally ready to turn your BMW E30 into a concept look ride. keen eye E30 fans will probably notice the main character lines of the E30 are left untouched, but we are not all into E30 and therefore, this TM concept30-equipped E30 appears to us as another rad ride that we would drool over.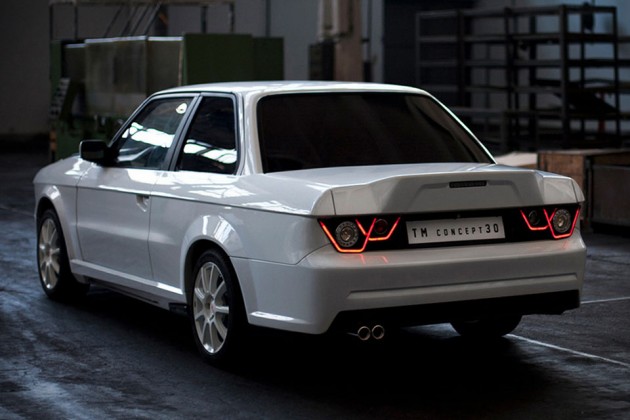 there are actually two versions of the TM concept30. the one that you see here is referred to as the "street" version which retains the E30's original roof and glasses, while the wheel arches are designed to cater to the original suspension with a slightly widened rim or with spacers. the other version is a "race" version that has all the original windows, but sports a M3-ish wider C-pillar and the wheel arches can be custom for any suspension and wheel setup as required. though we have to keep in mind that the TM concept30 is merely exterior cosmetic treatment which has no effect, except probably adding some weight, to the performance of your E30 and also, the interior will still remain pretty much the 80s/90s E30. that said, it will need more work if you want the inside to match up with the futuristic exterior.
the TM concept30 is available as kit form for €2,970 (around US$4,100). though the said price tag is probably referring to the "street" version. also, the pretty headlamps are not part of the package; they are available separately for an additional €800 (or US$1,100).
photos by Peter Mosoni Photography