a year ago, Romain Gauthier introduced to the world a retake of the constant mechanical movement by the way of a flat chain-and-fusee system. fast forward to today, the Swiss independent watchmaker takes this ultimate in haute horlogerie and overdosed it with opulence. unlike the original Logical One we have seen last year, the Logical One Secret inner workings are not immediately visible; it now sports a cover and an ordinary cover it is not. finished in 5N red gold, the cover is embellished with an ocean of diamonds cascading right down to the lugs. all told, it has 181 invisibly set baguette diamonds, totaling nearly 7 carats, making the timepiece glitters and sparkles.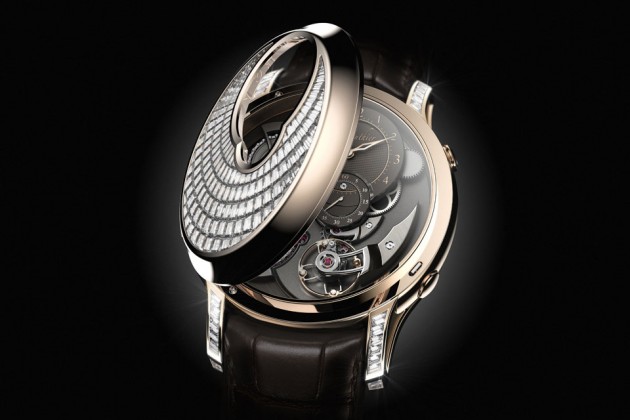 if there is one timepiece that will guarantee to catch anyone's eyes, it would be a men's size timepiece with tons of precious stones on it and that's just what the Logical One Secret has. a crafted opening allows the dial face to peek through and at a squeeze on the pusher discreetly set into the caseband, the cover opens to the marvelous, multi-patented complication. obvious aesthetic appeal aside, the diamonds fronting the watch also provide a practical advantage in creating an extremely scratch resistant case. here's what the watchmaker has to say about these stunning invisibly set diamonds:
The craftsmanship required for invisible diamond setting is even more demanding than most in that it requires not one but two skilled artists: gem setter and diamond cutter. To be invisibly set, each and every diamond has to be carefully grooved, with each cut running the very real risk of breaking the stone. However, while invisibly set diamonds are very difficult to accomplish, the effect is spectacular as, without visible support, the gems look larger and light can reflect and refract throughout unimpeded in an explosion of brilliance.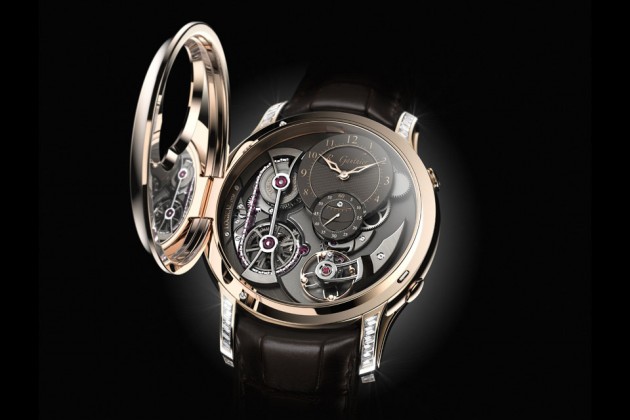 apart from the visual brilliance ascribed, it has everything that you have learned about the Logical One, including the flat chain-and-fusee style constant force system with ruby chain links, ergonomic push button winding system, dial-side visible balance, mainspring barrel with sapphire inserts, and a 60-hour power reserve indicator, visible on the caseback. apparently, the Logical One Secret can be commissioned to reflect your choice of artwork and case material, though there is no indication of how much it might cost, neither was the price of the 'regular' piece was made known.