if you love all things upcycled or repurposed like we do and you have a thing or two for wines, then we bet you will love the La Barrique (loosely translate to The Barrel) by Germany-based upstart Skypak. by its name, you probably won't know its awesomeness, but this bar is no ordinary cooling cabinet; it is one that's upcycled from airplane trolley. yes. the thing that air hostesses (or stewardess, if you prefer) push along the aisles of an airliner asking "sir, fish or chicken". instead of serving food warm, Skypak repurposed it into one that keeps your favorite wine cool and if the fact that it is an airplane trolley isn't cool enough for you (pun not intended, we swear), it has reclaimed wood instead of aluminum to boot. again, the wood used here ain't no ordinary timber; they are reclaimed from authentic wine and whiskey barrels, hailing from famous châteaux and distilleries around and handcrafted to perfection in Germany.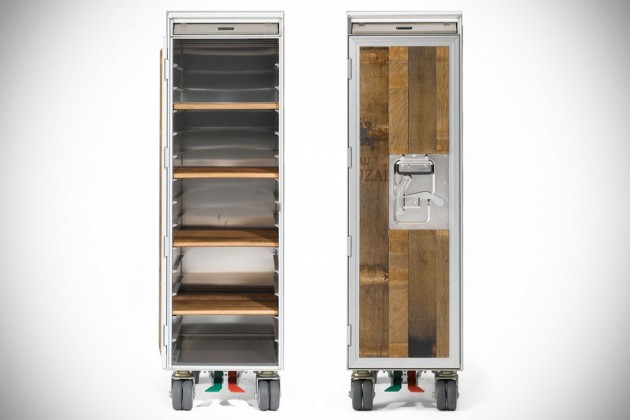 by using reclaimed wood for the build, it retains the intricate wine and whiskey stains, along with the texture leftover from the aging process, making each trolley one-of-a-kind and apparently, if you get near enough to the trolleys, which we are sure you will at some point, you will get a whiff of wine and whiskey scent. each La Barrique comes complete with four matching barrique wood shelves and features high-quality stainless steel door that opens up to a wide 270-degree and bears the familiar folding handle typical of inflight trolleys. it even has the foot-operated brake and release pedals intact – though we are not sure if does are functional. being an upcycled trolley, it naturally inherits the merits of the original which means the La Barrique is both durable and robust, but then again, that shouldn't be an issue – unless your house roll and tilts like aircrafts do sometimes.
available for both wine and whiskey storage, and there's even a special Jack Daniel's model too. for those residing in the EU, you can even opt for a refrigerated model too. the regular Barrique is available now through Skypak online store for €1,980 (or about US$2,900), while the cooler model goes for €2,480 (or around US$3,630). however, do note that the shipping might cost quite a bit cos' this thing weights a hefty 46 lbs each.