If you love trucks, then there's no reason why you don't love a 6×6 and similarly, there's no reason why you wouldn't feel sore that you can't own the limited Mercedes-Benz G63 AMG 6×6. This is the part where we tell you not to fret and bring you the good news that not all hope is lost, well, that's if you can settle for something a little lesser and when we said 'lesser', it does not mean lesser wheels, or axles; it is just a little less accomplished under the hood. Anywho, we would like you to meet the Toyota Land Cruiser 6×6 a collaborative vehicle created by NSV Automotive in collaboration with Australia's Land Cruiser conversion specialist, Multidrive.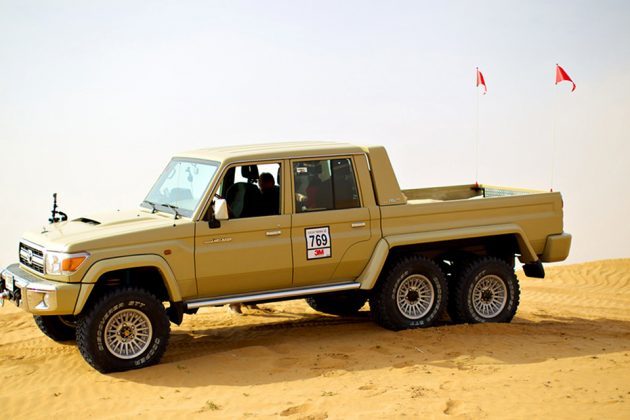 Granted, it is not as sharp looking as the G63, but it is no less impressive. I mean, it is moved by all 6 wheels after all, right? And it has a pickup truck bed and a crew cab, which makes it super cool, if not the coolest Toyota Land Cruiser around. Under the hood (or bonnet, as some would have preferred), it runs a 4L supercharged V6 unit good for 398 horses and 364 lb-ft of torque, mated to a five-speed stick shifter. Clearly, those numbers are not going to stack up to AMG's variety, but there's a 4.5L diesel V8 variant paired to an automatic gearbox as an option, which should provide this off-road beast with extra 'legs' ample grunt for some serious sand kicking.
Not a whole lot is known about this truck, though, which means, we have no idea where to get it, much less how much it will run you back. But I am sure if you ask, Multiverse may oblige to create one for you. We said 'may'. While you ponder about moving to Australia, may we invite you to catch the Toyota Land Cruiser 6×6 in action in the embedded video below.
Images via Multidrive
via Autoblog