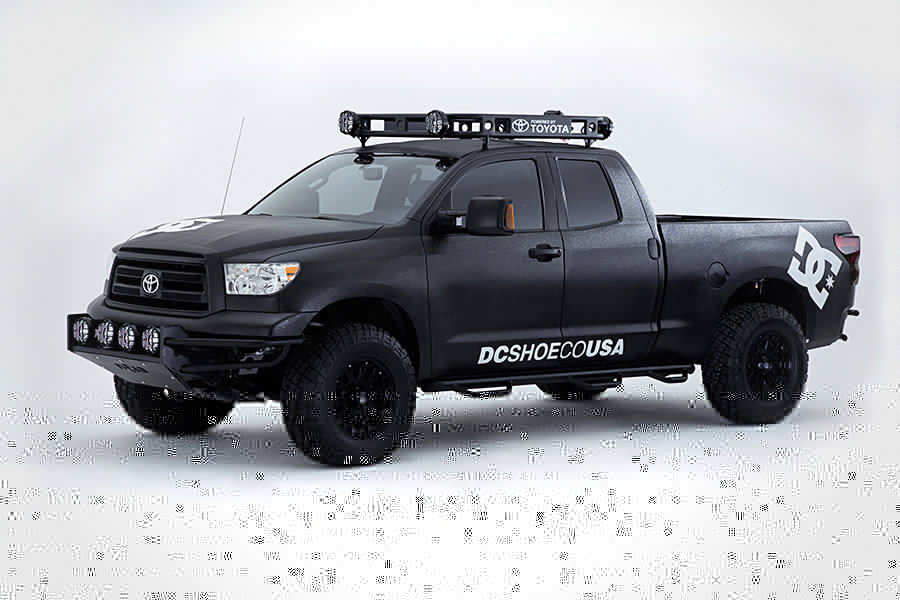 (photos: Toyota) Toyota Ultimate Motocross Truck | US$tba | www.toyota.com
in what i thought was an ultimate collaboration, Toyota has announced the Ultimate Motocross Truck that has been pimped out by West Coast Customs with the input from DC Shoes. just imagine this: a proven truck, a renowned custom chop shop, and a specialist in extreme sports footwear – what could have been better? this Toyota Ultimate Motocross Truck will make its official debut at tomorrow's SEMA 2011 and is the result of the valuable feedback from real Motocross sportsmen. building upon Toyota's Tundra Double Cab 4 x 4 that's powered by a massive 5.7-liter V8 power plant and mated to a six-speed electronically-controlled transmission with intelligence, West Coast Customs introduced a host of mods that transformed the Tundra that's capable of handling the roughest terrain and at the same time, outfitted with features that a Motocross rider will need.
[ad#Google Adsense-text-468×60]
some of the modifications include Camburg Racing suspension lift with shocks by Fox Racing, huge 18-inch KMC wheels, custom rough-textured paint job by Line-X, a roof rack that doubles as a viewing deck, fold-up bed sides, a suicide tailgate, a gas pump and water pressure washer on the truck's bed, an air compressor, a winch to load bikes, a discreet ramp, and a custom embroidered interior. all these features wrapped in a handsome off-road package. after the SEMA debut, the Ultimate Motocross Tundra will go on a tour like a superstar to various events around America, including the NAIA Show in Detroit. no word on if there will be a special edition of this truck available for pickup enthusiasts in the future but for now, it looks to be an one-off example. check out a few more larger images in the gallery after the break.
[toggle title_open="Hide Press Release" title_closed="Show Press Release" hide="yes" border="yes" style="default" excerpt_length="0″ read_more_text="Read More" read_less_text="Read Less" include_excerpt_html="no"]
October 27, 2011
2011 SEMA Show: Toyota Ultimate Motocross Truck
Toyota, DC Shoes and West Coast Customs have teamed up to create the Ultimate Motocross Truck, which will make its debut at the 2011 SEMA Show in Las Vegas. Built on a Toyota Tundra full-size pickup, DC Shoes used valuable feedback from their Motocross athletes to help create a truck that had everything a rider needs to make an event trip easier. They took this input and passed it along to West Coast Customs who performed the build.
West Coast Customs used a Tundra Double Cab 4×4 equipped with the powerful 5.7-liter V8 and six-speed electronically-controlled transmission with intelligence. The truck also features Tundras standard bed and is a certified Flex Fuel vehicle.
An array of modifications were built into this special Tundra enabling it to tackle the roughest terrain and it's equipped with everything a Motocross rider requires. Modifications include a suspension lift from Camburg Racing, shocks by Fox Racing, KMC 18 x 9-inch wheel mounted to General 35 x 12.5 x 18 tires, custom rough-texture paint by Line-X, a roof rack that can also be used as a viewing deck, fold-up bed sides, a suicide tailgate, a gas pump and water pressure washer located in the bed, an air compressor, a winch to load bikes, a hidden ramp, custom embroidered interior and much more.
The Ultimate Motocross Tundra will be a featured vehicle at a Toyota press conference on Tuesday, Nov. 1 at 10 a.m. Pacific Time at the SEMA Show. World Freestyle Motocross champion and X Games gold medalist Nate Adams will be on hand to talk about the Supercross Tundra.
After the SEMA Show the truck will go on tour to various events including the St. Louis Auto Show, North American International Auto Show in Detroit, the 2012 Supercross Series, and in December will be featured on the reality TV show "Inside West Coast Customs" (Custom My Ride in the UK) shown on TLC and the Discovery Channel.
# # #
ULTIMATE MOTOCROSS TUNDRA BUILD HIGHLIGHTS
Suspension Lift – Camburg Racing
Shocks – Fox Racing
Wheels – KMC 18 X 9
Tires – General 35 X 12.5 X 18
Paint – Line-X
Bumpers/Side Steps – N-Fab
Accessories – Matrix
Lights – KC
Amps, Subs, Speakers – Diamond
Head Unit – Pioneer
Cables and Connections – Monster
Winch – Warn
Additional Features:
Roof Rack/Viewing Deck
Fold up sides
Suicide tailgate
Gas pump
Water pressure washer
Air compressor
Winch to load bike
Hidden ramp storage
Custom embroidered interior
PARTNERS/CONTRIBUTORS
Camburg Racing, Fox Racing, KMC, General Tire, Line-X, N-Fab, Matrix, KC, Diamond, Pioneer, Monster, Warn[/toggle]
SOURCE: Toyota
via Freshness