being a watchmaker that incorporates camera mechanics into timepieces, it is only a matter of time that Valbray collaborates with some high-end camera makers on camera-inspired wrist watches and that 'matter of time' is happens to be now, starting with Leica with the Valbray EL1 "100 Years Of Leica Photography Edition" Watch, an exquisite and limited timepiece featuring the European outfit's signature iris-style dial face known as Oculus diaphragm dial system. the system is made up of a series of blades that open and close much like a camera lens' diaphragm, activated as you turn the bezel. each blade is exceeding thin, measuring a mere .01mm thin and is treated to three separate anti-friction coatings that provides the mechanism a smooth sliding in and out motion. just the shutter mechanism alone involves over 80 moving parts, making it a truly awe-inspiring feat.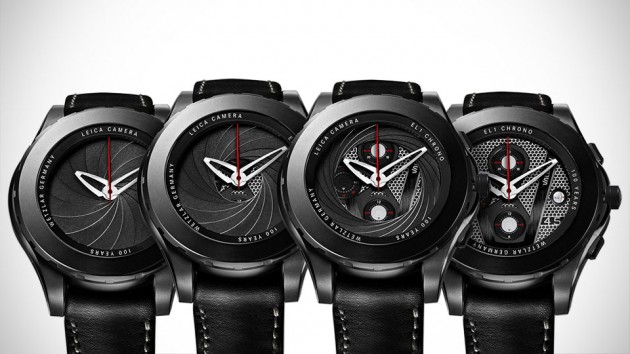 the EL1, so named after the initials of Leica's founder Earnst Leitz, sports several Leica-inspired design cues, starting with a ring that circles the diaphragm dial face that mimics the ring on the end of a Leica lens and obvious markings "EL Chrono", "100 Years", "Weitzlar Germany", and "Leica Camera". tucked away under the diaphragm dial is the main dial where you will find a set of chronograph with the signature Valbray "V" motif over a metallic honeycomb as the background. the chronograph's sub-dials, comprising of minutes (at 12 o'clock), hours (at 6 o'clock) and seconds (at 9 o'clock), also serve as a subtle but appropriate reminder of the control and setting dials found on Leica's Rangefinders. on dial, you will also find a round date window and another subtle hint of its Leica affiliation, the "4.5" located at 4 hours and half that evokes the aperture of the first Leica.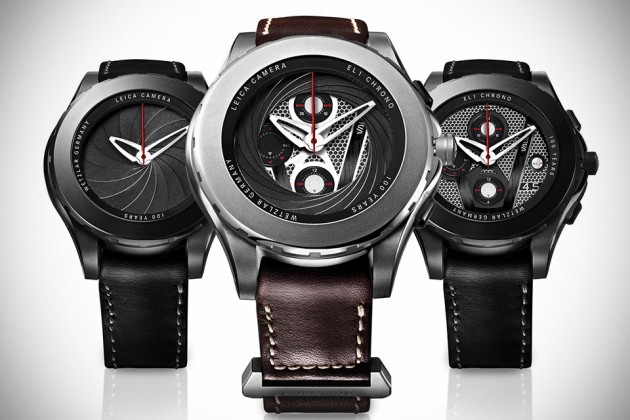 further evidence of the collaboration is presented in the form of the Leica Camera logo, which can be found on the crown, as well as the caseback, while the imaging inspiration continues to the caseback, with the automatic Valjoux movement's open worked rotor visible through the sapphire glass, darkened in a nod to the black room. only 100 pieces of this special edition 46mm timepiece will be made, of which 50 in its original titanium finish and 50 in black DLC treatment. the Valbray EL1 "100 Years Of Leica Photography Edition" Watch will be available through Leica boutiques and Valbray's retailers starting June 2014 with a grand €17,999 (about US$25,000) asking price.