when it comes to wallet, we often think leather, ballistic nylon or canvas as the material choice, but for those who chose to defy convention, the Sapling Aluminum Series Minimalist Wallet might just be right up your alley. machined from a solid block of 6061 aluminum, glass bead blasted and anodized to enhanced look and for durability, the Sapling Aluminum Series Minimalist Wallet truly redefines the concept of minimalist wallet. there is no pocket, compartment or whatsoever; what you have is a beautifully crafted aluminum in size of a credit card, that resembles a tray or sort, with an elastic band to hold up to eight cards, or a combination of cards and cash. but the folks at Sapling don't just stop there.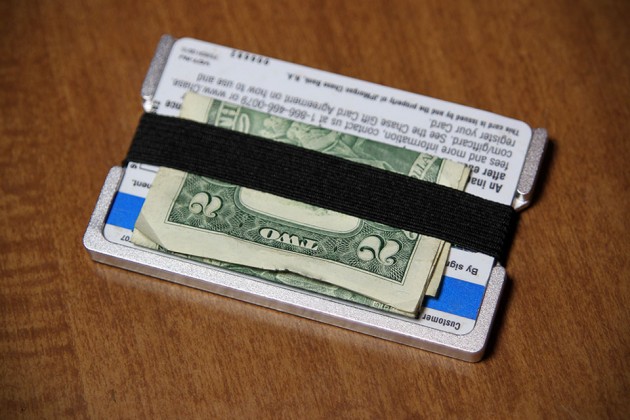 they are offering the Sapling Aluminum Series Minimalist Wallet in a simple aluminum design (aka Classic Aluminum Series), featuring the Sapling logo and option to engrave your name on the wallet, as well as a couple (Crosshatch and Stealth Aluminum Series) that features textured patterned. with the Stealth Aluminum face, you are also given the option to laser engrave your name on it. make no mistake here, the engraving that we spoke of ain't no monogram, which means you get your full name of your choosing on it. now, this is what we call personalization. definitely way better than some meaningless three letters, don't you think? i mean, what the heck is "ICT" or "WSB" mean to anyone, anyway?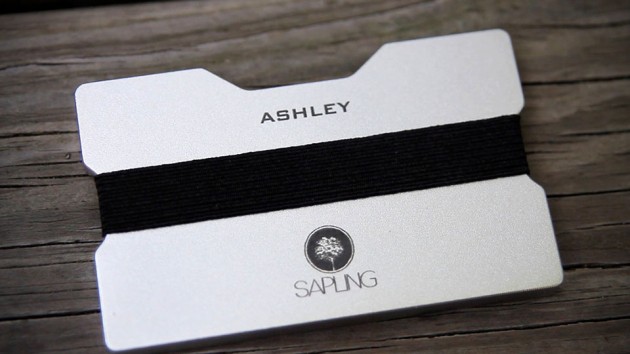 anyhow, since they are made out of aluminum, they are also by nature RFID blocking, thus cards slipped into the Aluminum Series minimalist wallet are more secure against criminal minds who love ripping off the cards details through skimming. the wallet is offered in gold, black, and silver during its Kickstarter campaign, but with the Stealth model, you have an additional option to go two-tone. on top of all that, the Sapling Aluminum Series Minimalist Wallet is 100 percent made in the good'ol US of A, which means Sapling has more control over the quality and timeline of the production. you can pre-order your Sapling Aluminum Series Minimalist Wallet for $30 and up via Kickstarter. keep going for a product intro video.