a wallet's main purpose is to stash your money for economic exchanges. plain and simple. but that was then. these days, if you want the wallet to be part of your style factor, a good looking piece is what you need and not just any pretty piece. it is has to be minimal too, so that your favorite pair of jeans or pants that constitutes to your overall 'style factor' won't look like it has a tumor growing out on the back. speaking of wallet as a fashion accessory, the STITCH & LOCKE Minimalist Cork Wallet (aka SLIDE) definitely upped the ante and is amongst the candidates of to-get wallets if you style is an utmost importance. however, product images and specifications won't be enough to judge a product's awesomeness (or not) and that's why we count ourselves as being the lucky lot to able to have our hands on one and talk about in this post.
The Impression
according to some research it take just a few seconds for something or someone to make the first impression that will stick for, like forever, but when it comes to STITCH & LOCKE Minimalist Cork Wallet, it takes way lesser than that to make a seriously good impression. the package, which in this case is of a hard cardboard, is minimalistic, pretty and of course, serves it function of presenting the good stuff within. upon opening the package, we are greeted with a super lightweight and handsome looking piece that was love at first sight for us. no exaggeration here. that was exactly how we felt when we first lay eyes on the physical product. the combination of denim and cork fabric can only be described as match made in heaven.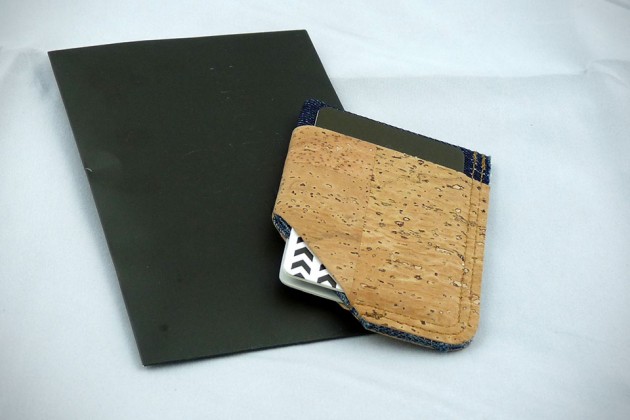 The Craft
the denim provides the wood-colored cork material the necessary and balanced contrast, forming the basis of why this wallet stands out so brilliantly. the two materials are joined in harmony by one single sewn side with the cork fabric forming a kind of wraparound effect. the end result is, you have three 'pockets' or 'compartments' that allows you to segregate your cards and/or cash. that's definitely a plus as most minimal wallet won't have such luxury. the fact that it is handmade, gave it that extra raw edge (well, almost literally) which adds to the beauty of this product. you can tell that an artisan was behind this handiwork and not a bot as the stitching is not quite machine-straight, which again, adds to the rawness that complements the cork fabric's natural appeal and also the denim's ruggedness.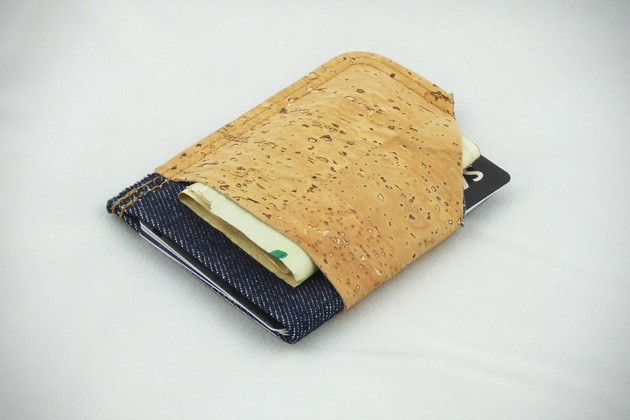 The Fit
there are always the concern of how many things you can actually pack inside a minimalist wallet and the concept of 'enough' varies from person to person, and therefore, we can't speak for everyone. we did, however, put it to the obligatory test by loading it up with six cards of varying thickness and six folded bills. it could probably fit a couple more bills and cards, but it would be too tight for our comfort and also likely to overstretch it. however packed the content is, a thoughtful quarter cut away at the bottom of the wallet allows you to easy nudge out the cards and/or bills easily when you need them, which works as it should without a hitch. additionally, we left the contents in there for a couple of days, carrying them around and eventually removing the item to see if there will be a permanent stretch due to the bulging contents. the inevitable happens. the cork fabric did stretch a little and as a result, the compartment becomes a little expanded and lose for a single card, but even so, a lone card won't just slip out unless you shake it like super violently. i guess nobody is going to do that intentionally, do they? so it is safe to assume that there isn't any serious aftereffect of stretching it out.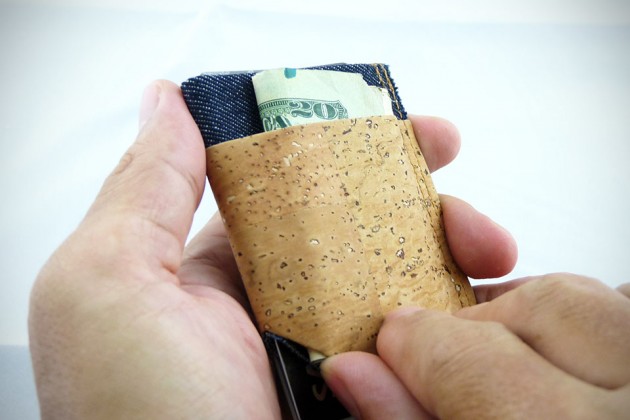 The Verdict
overall, we would say it is a feel good wallet. it feels good in the hand and unobtrusive when in the jeans front or back pocket. though minimalist by design, it is still able to pack in quite a lot and is as close as bringing a full wallet content as you can get without the traditional bulge. we look at the STITCH & LOCKE Minimalist Cork Wallet as a shaved down version of a regular two fold wallet, where unnecessary materials are eliminated to arrive to what it is now, which explains its ability to carry this many and yet maintain as a nifty package. so if you are all up for minimalist wallet and want something that still packs quite bit and look absolutely amazing at the same time, the STITCH & LOCKE Minimalist Cork Wallet is for you. no doubt about it.
the STITCH & LOCKE SLIDE Minimalist Wallet is available now starting at $26 a pop.