You'd be forgiven to think pogo sticks are for kids, because pogo stick is something most kids grew up playing with before skatescooter comes along, and unlike skateboarding and inline roller blading, pogo sticks are never extreme, well, that's until Vurtego V4 Pogo Sticks. Not only is Vurtego's iteration is no child's play (though kids of weight of at 75 lbs can still enjoy it), it is also one that's capable of launching you up to 10 feet (3 meters) into the air. The California-based company started reinventing the pogo stick a few years back with the aim of creating a "portable trampoline" that lets you bounce whenever, wherever.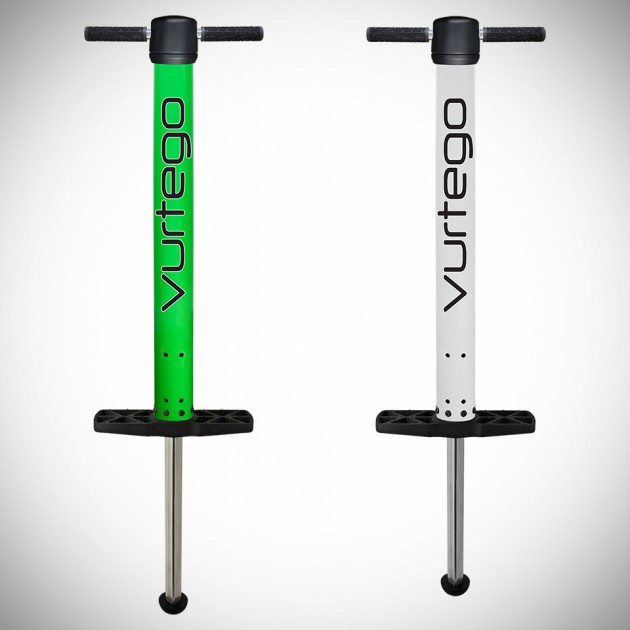 When we say V4 reinvents the pogo stick, we are not exaggerating. Instead of merely bouncing like kids do, V4 takes pogo stick to a greater height, well, literally – thanks to an air spring, which replaces traditional spring. Using air, it allows the pogo stick's stiffness to be adjusted to suit different users of varying weight. Air is introduced into the pogo stick through a pump and can be released with a press of a button. Adjusting the stiffness also enables different style of ride, such as lesser air allows for softer jumps, while more air gets you higher jumps for extreme sport-style ride, like rail-grind down the stairs and such.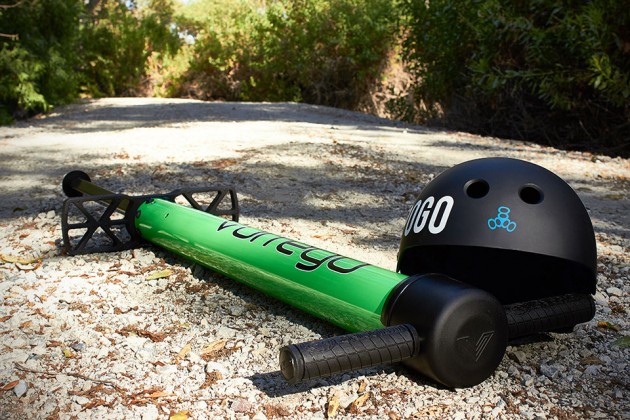 This latest version features several improvement over its predecessor, which includes more breather holes for increase circulation and maximize air flow, brand new air piston design with larger volume, relocated shock absorber donut, ultra-grip power coated traction pegs, up to 3" of extra stroke, and a new 88s urethane grip dome tips to provide more traction.
Three versions are being offered: V4 standard edition, V4 Fit, which is the exercise edition, and V4 Pro that's geared towards extreme sports lovers. The latter is the serious jumper, which is capable of 10 feet jumps to enable seasoned pogo stick riders to various tricks. Vurtego V4 Pogo Sticks was on Indiegogo, where it was successfully funded back in July 9 and it is now available for pre-order through Indiegogo's InDemand program for $390 and up.