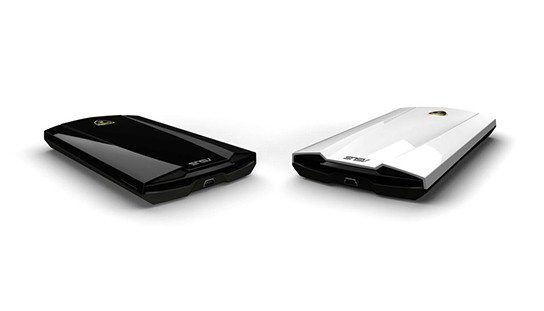 (image credit: ASUSTek Computer) ASUS Lamborghini External HDD | US$tbc | www.asus.com
brand collaborations usually remains in the mobile computer domain which we have accustomed to but how about moving on to the External HDD in the form of ASUS Lamborghini 2.5″ External HDD? aesthetically speaking, the Lamborghini External HDD embodies the trademark aerodynamic flow of Lamborghini cars combined with high capacity storage of between 500 GB to 750 GB and spotting the USB 2.0 or USB 3.0 interface.
frankly, external HDD specs are similar between the myriad of brands and makes but what makes the Lamborghini External HDD stands out is its glossy enclosure which, by no accident, also spots the raging bull logo. packaged with the Lamborghini External HDD is an USB cable, protection bag and documentations, and it will be available in either black or white. however, there are no firm words on its pricing and its availability at time of of this posting.