over the years, tech companies must have found out the close relation between super car lovers and gadget lovers. hence the birth of the collaboration between consumer gadgets and super car branding. not that the consumer gadgets will get any insane horsepower or ultra streamline aerodynamics profile, and no i'm very sure the gadgets didn't turn up in a wind-tunnel test. let's have a look a few of those collaborations, although some of the products may have already been released for a few months now. featured here are just a few recent collaborations, not mentioning attempts by Koenigsegg Supercar or Ego with their Bently branded, odd looking laptops.
[ad#Google Adsense-text-468×60]
ACER Liquid E Ferrari Special Edition


(photo source: acer.com)
this recent addition to the Acer-Ferrari collaboration, is an Android device clad in glossy Ferrari F1 red. Running on Android 2.1 Éclair, the Liquid E spots a 3.5″ high-def WVGA capacitive screen, a 5MP camera with autofocus and geo-tagging capability. weighing just 135 grams, the device let's you blazes through multimedia with the Qualcomm Snapdragon™ 8250 processor. a sweet combination of beauty and power. when i first lay my eyes on this, my heart melts. i would love to have this as my alternate phone. can i? can i?
visit ACER website.
ACER Ferrari ONE netbook


(photo source: acer.com)
when this (aesthetically) stunning netbook was announced. i knew i gotta have one… well, but i didn't. the Ferrari One network runs on AMD Athlon X2 dual-core processor L310 and AMD M780G Chipset. this dashing Ferrari Red netbook, may not be blazing fast as a real life Ferrari but definitely scores well in the style department, never mind if you don't own a real Ferrari. personally, i thought computing market is moving so fast, which ends up with a model become obsolete very quickly and i think its hardly worth the effort (in manufacturer perspective) for such collaborations. nevertheless, this still look awesome which makes one forgets how fast things become obsolete. this netbook was introduced sometime earlier this year, but i bet consumers have already forgotten about it at this point. i didn't mention the specs in detail, because by now, this could already be 'an old' technology and besides, specs won't differ much from the rest of netbook in the market. that said, what set this aside from the rest of the netbook is… it's a Ferrari.
visit ACER website.
ASUS Lamborghini VX series laptop/netbook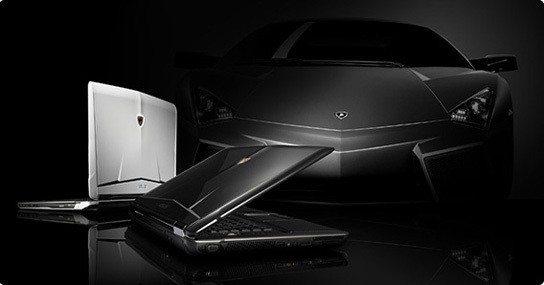 (photo source: asus.com)
Acer has Ferrari's branding, and ASUS has one based on Lamborghini. if you have been following through with ASUS line of products, the Lamborghini VX series started it's life as the VX1 and runs along through to the VX5 and the soon to be released VX6 netbook. the VX series is perhaps the longest running collaborations between an automobile and computer company.
the VX5 is a full-fledge laptop running on Intel® Core™2 Quad Processor (Q9000) which has a clock speed of 2 GHz and mobile Intel(R PM45 Express Chipet (+ICH9M). available in piano black or pearlescent white, the VX5 is a 16-incher with graphics powered by NVidia® GeForce™ GT 130M (GDDR3 1GB VRAM). personally, i think ASUS should continue with the Lamborghini Yellow, which like the Ferrari Red, represents the brand name of Lamborghini. the Yellow kind of like calls out that 'hey! this is Lamborghini!'.
the upcoming VX6 is going to be a netbook and it's said to be available by mid-October in Europe (source: TechConnect magazine). last check on ASUS Global website, nothing shows up as yet. also in white or black finish, and spotting a 12.1 inch LED back-lit display running on 1.83GHz Atom dual-core processor, among the usual flair of WIFI & bluetooth connectivity, 1.3 megapixel webcam, HDMI, USB 3.0 ports et cetera.
the VX series could be the next thing closest you can get to a Lamborghini if you are not a millionaire like yours truly…
visit ASUS website.