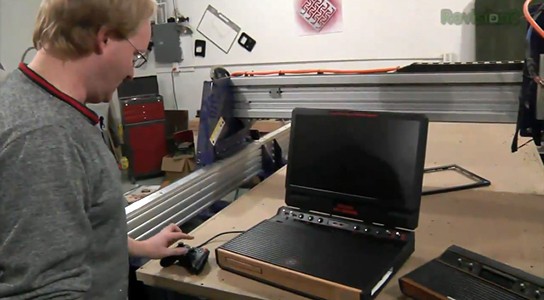 (credit: screenshot from Ben Heck video)
expert electronics modder, better known as the gaming consoles tinkering maestro, Ben Heck has created a XBOX 360 laptop in the form of an 70s Atari 2600 system, albeit being much bigger. a LCD was also incorporated to realize the mobile gaming aspect of this wonderful hybrid gaming machine, though the system still relies on AC power supply for power but that's already good enough for most of us.
this project came about when Atari approached Ben to create a promotional item for some of Atari's new games. catch the video after the break on how Ben went about carrying out this task. even though i'm not huge fan of XBOX 360 (or anything related to Microsoft for that matter), i thought this project rocks. oh, Ben called this XBOX 360 portable as the "XBOX 360 1977 Edition." sweet. i want one!
oh, by the way, according to Ben, fans can head on down to Atari website to stay up to date on how we (notice, i said 'we' – cos' i really want one!) can enter for a chance to win this awesome Atari XBOX machine. that machine is a pure beauty.
YouTube video via DVICE
[ad#playasia-2]