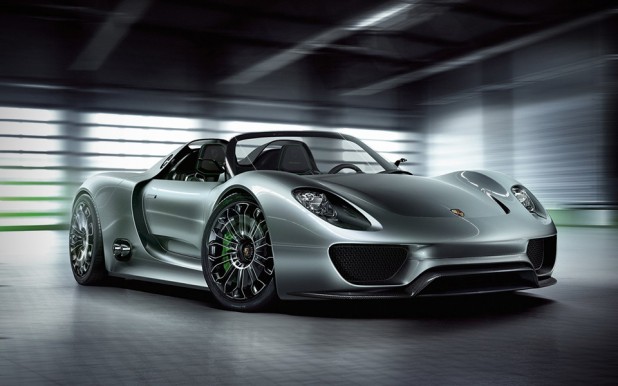 Porsche 918 Spyder Hybrid | US$845,000.00 | www.porsche.com
if you are a tree-hugger with huge pockets, you will glad to know that Porsche is taking pre-orders for the 918 Spyder Hybrid. the supercar was first showcased back in the 2010 Geneva Motor Show and was originally destined to remain just as a concept, until Porsche received overwhelming response for this beauty. powering the hybrid is a 500+ horsepower V8 petrol engine and a pair of electric motors that will produce more than 218 horsepower combine. the hybrid is said to be capable of a century sprint in just 3.1 seconds with a top speed of 199 mph. the 918 Spyder Hybrid is also capable of full electric drive with a top speed of 94 mph. Porsche promises a fuel economy that is nothing short of impressive: 78 miles per gallon and 16 miles on pure electric drive.
the two-seater convertible will comes with removable roof panels that can be stored in the car's front luggage compartment. it's a porsche and it's a porsche hybrid, so naturally, the Porsche 918 Spyder Hybrid does not come cheap. the Porsche 918 Spyder Hybrid commands a $845,000 price tag and production is slated to be in 2013. besides being expensive, it will be available in limited numbers – just 918 lucky (and rich) people will get to buy it. for rich folks who don't feel 'safe' in an all electric sports car, perhaps the 918 Spyder Hybrid could fit the bill. well, at least you can have a life on the fast lane with a smaller carbon footprint, plus it looks good too. not convinced? check out the 918 Spyder Hybrid in action in the video below.
via Fast Company