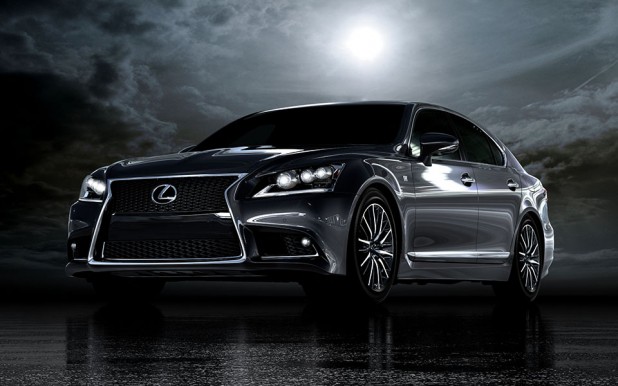 2013 Lexus LS 460 F SPORT | US$tba | www.lexus.com
for more then 20 years, Lexus flagship LS has gained quite a foothold in the premium luxury segment but there is still something missing from this awesome luxury sedan – a sports version. so do we need a souped up LS that is mainly targeted at top executives and businessmen? our view is: why not? it has a powerful engine, why shouldn't it show it off on aesthetically? and that's exactly what Lexus is doing with its first-ever LS 460 F SPORT – a pimped up version of its 2013 LS 460. it has everything a regular LS 460 has, including the 386 hp (or 360 horses for the AWD models) 4.6-liter V8 aluminum block mated to a 8-speed sequential shift automatic gearbox, but with addition of a host of upgrades and tune-ups that include a more aggressive exterior on top of its refreshed 2013 styling, F SPORT seats with larger bolsters, leather-wrapped steering wheel with paddle shifters and aluminum trim, sport tuned air suspension with a lower ride height, a Torsen limited slip differential (on the rear-wheel drive version), Brembo six-port caliper brakes, and 19-inch forged wheels with summer or all-season tires wraps up the sports package.
performance-wise, expect a century sprint of 5.4 seconds (5.9 for AWD) and an electronically limited terminal speed of 210 km/h (130 mph). other standards include increased body rigidity, revised steering setup, advanced Pre-Collision Safety (A-PCS) system with Collision Avoidance Assist, all-LED interior lighting system, a high resolution 12.3-inch split-screen capable multimedia display, and customizable Lexus Climate Concierge that automatically regulates the cabin's temperature, as well as the climate control seats and heated steering wheel. the Lexus 460 F SPORT will be available in rear wheel drive and all wheel drive models. no word on when exactly it will hit the dealers or what the list price would be. however, we do have a cool set of imageries, courtesy of Lexus USA, after the break. don't miss it. it makes you feel good just by viewing them. really.