Remember that super sexy Lotus C-01 motorcycle that's not built by Lotus? Only 100 units of this fine example were built, which makes it one of the super rare two-wheeler, if not the rarest, in the world. If you weren't one of the hundred lucky folks who managed to secure one, here's another golden opportunity for you to do so; only this time, it is going to be both easy and difficult to obtain. In a way, it is easy to obtain because this particular immaculate example, which apparently has never been ridden, will be going under the hammer at Monterey Car Week.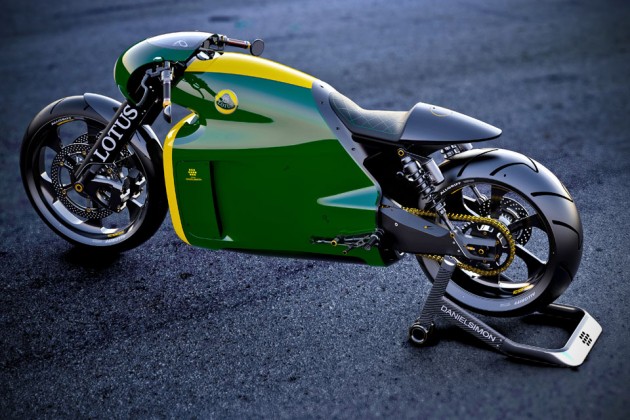 On the other hand, you will have to slug it out financially with everyone else who have the financial muscle as you are to vie for it when it goes on the block. I know it is easier said than done, but at least nobody's going to pre-book it like it did a couple of years ago, leaving you high and dry. Anywho, if you are interested, August 18-20 are the dates you want to look out for and you had to be at Hyatt Regency Monterey Hotel and Spa – Del Monte Golf Course. Also, Lot F63 is the one you want to pay special attention to. Before we go, here's a little refresher on this beauty:
The bike is designed by Daniel Simon, who is also the brainchild behind the Tron Legacy Lightcycles, as well as my personal favorite sci-fi vehicle, the Bubbleship from the movie Oblivion.
It is powered by a liquid-cooled 1,195 cc V-twin engine putting out 200 horses and mated to a six-speed "jaw-type" shift gearbox.
It rides on 19- and 17 inch wheels, front and back, respectively.
It boasts a frame made from a combination of steel, titanium and carbon fiber.
Braking power comes from twin disc coming in at 320mm pair to four-pod calipers, front and single disc measuring 220mm with two-pod calipers rear.
Most importantly, it is no longer in production and this particular example, which is believed to be the only one in North America, has never been ridden.
The 2014 Lotus C-01 Motorcycle may not be a classic ride, but it has the look and appeal of one and being the 'first Lotus motorcycle' it is certainly worthy of being a collectible. That's of course, provided that you have the dough to drop because Mecum Auctions is expecting it to fetch anything between $370,000-450,000. Continue reading for more awesome images.
Images: Lotus Motorcycles/Mecum Auctions.
Mecum Auctions via Robb Report