touring bike is fun, but luggage space is a serious turn off if you actually want to use it for touring. that said, you might be better off on a trike that has a real trunk like the new 2015 Harley-Davidson Freewheeler Trike. trike is not new in personal transportation – it has been around for ages, but the Freewheeler you see here is the American bike maker's latest offering that embodies the quality and power HD have been known. powered by a 1,690cc air-cooled Twin Cam 103 engine, producing 104 lb-ft of torque, the Freewheeler Trike is fitted with a Cruise Drive 6-speed gearbox with electrically-selected reverse and boasts a new ergonomically-designed hand-operated controls, classic heel-toe shifter, full-length footboards and foot-operated parking brake.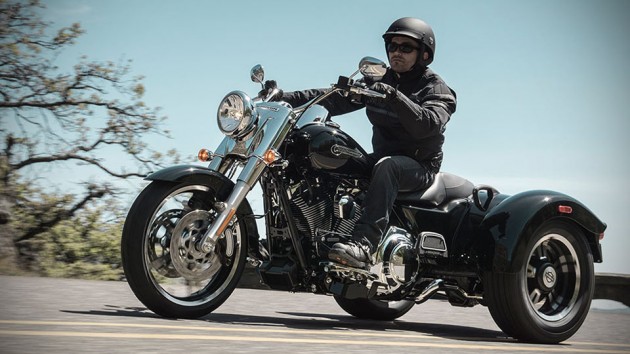 other key features include wider passenger grab rails, air adjustable suspension, electronic throttle with cruise control, a new Assist & Slip hydraulic clutch, reduced reach (by up to 1″) comfort stitched seat, a trunk that could accommodate up to two full-face helmets, integrated battery charging harness, bias front and radial back Dunlop Harley-Davidson Series blackball tires, Enforcer cast aluminum wheels, rear to front linked brakes with front brake remaining independent, dual disc front and Hayes rear brakes with 6-piston fixed calipers, high-flow airbox, a new 7-piece nacelle, 12″ Mini Apehanger bars, 3-inch shorter mufflers – in chrome, naturally, and last but not the least, a tribute to a classic HD with Bobtail rear fenders and bullet turn signals.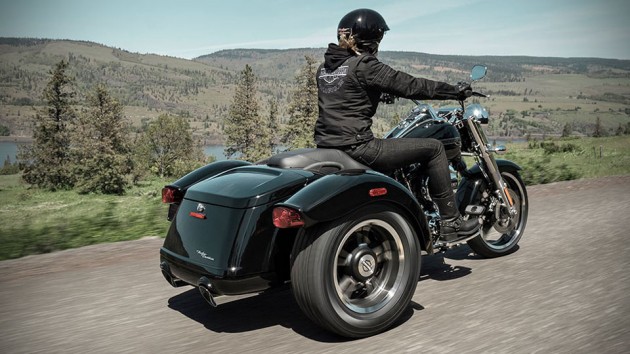 the spec and equipment list sounds pretty cool to us. not the price though. this three-wheeler, which is available now in the U.S., starts at $24,999. and oh one more thing, remember the shorten mufflers? well, it has to be trimmed, because the 2015 Harley-Davidson Freewheeler Trike is a good 3-inch shorter than the Tri Glide Ultra model and in addition to that, the Apehanger Bars are pulled nearer to the seat for reduce force to turn and more reachable for some folks. a good thing for shorter folks who often find some motorcycles a bit of a stretch, literally.