After more than 80 years in the business of cutting and drilling, Dremel, the preferred brand for hobbyists and home improvement enthusiasts, is ready to help you build stuff with this handsome looking 3D printer called Dremel Idea Builder. Boasting the same easy-to-use principle as the rest of the company's line of products, the Dremel Idea Builder is the world's first UL certified 3D printer "with best-in-class features and world-class service." Thanks to the strategic partnership with Autodesk, Dremel is able to provide you with free print-ready 3D models and simple design tools to get you started with if you haven't muck around with one before.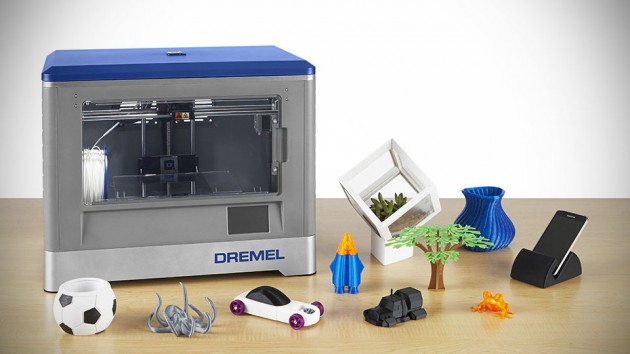 Features include intuitive print software, pre-installed extruder for fast out-of-the-box use, full-color touchscreen and onboard print software for standalone operation, built-in SD card reader, fully enclosed design to minimize noise and protected object building, active cooling fan prevents warping of objects as they are being printed, 100-micron print resolution, and a large, removable build platform lets you build stuff up to 9″ x 5.9″ x 5.5″ (228.6 x 149.9 x 139.7 mm) – all in a machine with a foot print measuring just 19.1″ by 13.2″ (485 x 335 mm).
You can pick one up from Amazon now for $999. Each machine comes with everything you need to get your 3D printing endeavor started, including a filament spool, object removable tool, cleaning tool and more. If you already have a bunch of dremel tools, the Idea Builder will serve to complete the ecosystem necessary for all your DIY needs. Keep going for a few more look, plus a video to learn more about the Dremel Idea Builder 3D Printer.