A handgun is designed to kill or maim, but when in the hands of a law enforcement officer, it is not necessary the case – thanks to an innovative clip-on device called The Alternative from Californian company called Alternative Ballistics. The Alternative clips onto the handgun front and is designed to slow down the projectile so that it will incapacitate instead of killing the suspect. With the device, you are effectively turning a handgun into a beanbag gun. Though, we can imagine the damage created should be more substantial than a beanbag gun due to the pressure exerted by the size of the steel ball. Still, it should not kill or cause any form of life-threatening injuries.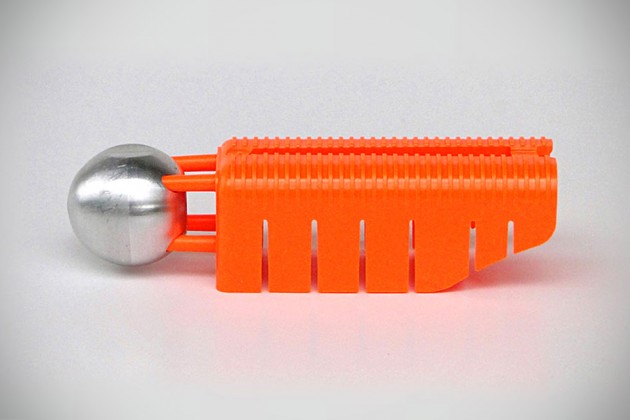 The beauty of this device is (if you could call it 'beauty') it won't interfere with the handgun's operation, affording full use of the sights and the rail system for other attachment such as laser or flashlight. This is how it works:
"Once the bullet is fired from the gun into the projectile they permanently become one unit. The docking unit will automatically eject from the weapon and the firearm returns to its normal function before it cycles in a new round."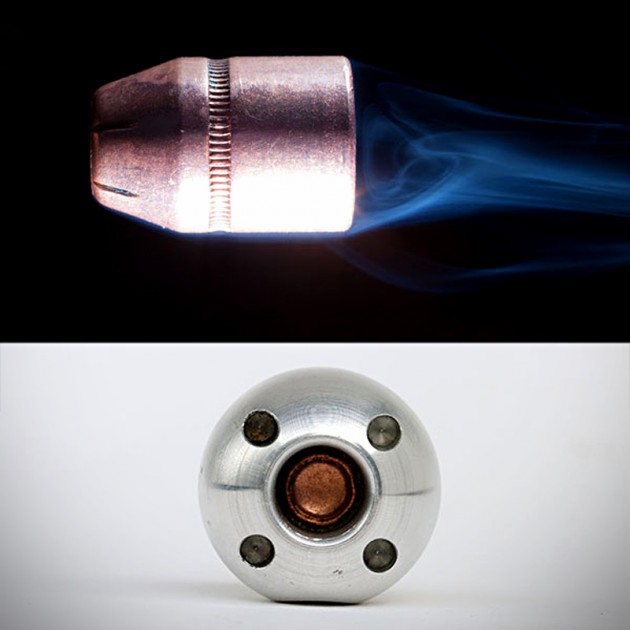 This process reduces the speed of the outgoing slug, allowing the proprietary metal alloy sphere to impact the threat without penetration occurring. The Alternative has its own pouch, which is secured to the officer's belt for quick access whenever it is needed. If it is clipped on but not used, it can be removed and keep for later use. Best of all, it needs little training to use, which means it can be easily incorporated into standard firearms training without incurring significant time or cost. The only caveat is, there will be one more thing to secure to the officer's belt.