while the tech industry are still bathing in the sweetness of post iPhone 6 announcement, Amazon is assaulting the eReader and tablet markets with a handful of new stuff, including an all-new Fire HDX tablet, a Fire HD Kids Edition, two new Kindles, namely Voyage and Kindle with Touch, and a new version of the Fire OS, known as OS 4 "Sangria". under normal circumstances, i.e. one without a major tech event like the iPhone 6 event, Amazon's announcement would have been pretty huge, but alas, it was announced a week after iPhone 6 unveiling and when the heat is on for reviews, pre-order and the obligatory fanboys slugging out, which kind of drowns out the whole affair. anyways, if you are in the market for new tablets or eReader, read on to find out more.
Fire HDX Tablet
it was a year since the last HDX tablets were announced. a year on, Amazon is quick to follow up with one with a faster processor (a 2.5GHz item now) and touting "70% faster graphics engine." apart from that, it has a lot of other improvements to shout about, including a "perfect color" HDX display that has 2,560 x 1,600 pixels on it and a pixel density of 339 ppi. the display also boast Dynamic Light Control which auto-adjust the color to make pages of a book to look like a piece of paper in any light. the all-new HDX is said to be "startling light", claiming 20% lighter than iPad Air, coming in at just 13.2 ounces – made possible with a blend of lightweight materials such as magnesium, glass and nylon. the audio reproduction also gets a boost with support for Dolby Atmos (on a tablet? how???) and touts output twice as loud as iPad Air, with crisp, clear sound without distortion.
obviously, the HDX has its sight set on iPad Air this time round. other key features include 802.11ac MIMO that can deliver up to 4x the peak bandwidth, 4G LTE option, up to 64GB onboard storage, dual stereo speakers, built-in microphone, a front-facing HD camera, a 8MP rear-facing f2.2 camera with LED flash that records up to 1080p video, Advanced Streaming and Prediction that predicts the titles you want to watch and buffers them for instant playback, and a battery pack that offers up to 12 hours of mixed usage. the all-new Fire HDX tablet is open for pre-order now, starting at $379.
Fire HD Tablet
apart from HDX, the Fire HD also gets a refresh. available in a choice of 6″ or 7″, clad in a sleeker design with five color options, the all-new Fire HD features a HD+ display with 1,280 x 800 pixels, packing in 252 ppi and is powered by a quad-core processor, clocking in at up to 1.5GHz, which Amazon said has 3 times the graphics performance of the Samsung Tab 4. actually the most important about the refreshed Fire HD is in the price. Jeff Bezos said it is "the most powerful tablet under $100." but that's for the tiny phablet size 6″ variety. not that it won't appeal to users, but just that, well, it is kind of small for a tablet and just 0.3″ larger than the Galaxy Note 4.
anyways, other details include up to 16GB storage, built-in WiFi, a 2MP rear-facing camera, a VGA front-facing camera, Dolby Digital Plus audio, Advanced Streaming and Prediction that predicts the titles you want to watch and buffers them for instant playback, pre-loaded with WPS Office app fr creating, editing and viewing Office documents, and up to 8 hours of battery life. like the HDX, it will run off OS 4 "Sangria". you can pre-order the all-new Fire HD tablet today, starting at $99 for the 6″ model and $139 and up for the 7″ model.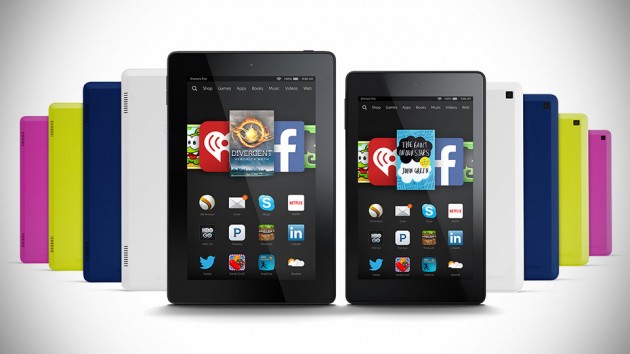 Fire HD Kids Edition
this announcement by Amazon should really be called 'there's something for everyone' event. in this announcement, Amazon also introduced a tablet for juniors, called Fire HD Kids Edition, which Amazon emphasized that it is a real tablet, not a toy. the kids edition gets a quad-core processor (no specifics were provided), a vivid HD display, along with a front- and rear-facing cameras. it is in fact a full feature tablet, a latest-gen Fire HD, but around for kids. it is built tough, encased in a Kid-Proof case to take the beatings your kids can unleashed on it, however, if all else fails, it is covered by a 2-year worry-free guarantee, which Amazon promised to replace broken tablet for free without questions.
spec is not the focus point here, or at least it seems to be that way. the focus here is what's in it for you and your kids. it includes a year of Amazon FreeTime Unlimited so juniors have access to 5,000 books, movies, TV shows, educational apps, and games at no additional charge and it also touts "best-in-class" parental controls, allowing you create individual profiles for each of your children, personalize screen time limits, educational goals, and age-appropriate content. the Fire HD Kids Edition is available in 6″ and 7″ model and cost $149 and $189, respectively, and is available for pre-order today.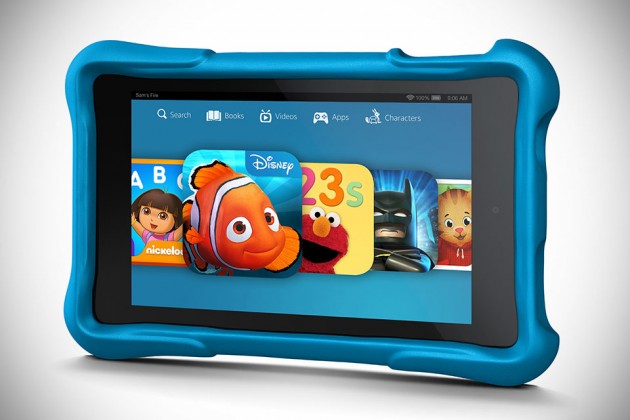 Kindle Voyage and Kindle with Touch
Amazon didn't forget about their roots too. it also announced two new Kindles, known as Kindle Voyage, which the online retailer giant described as their "most advanced e-reader ever," and a new $79 Kindle, touting 20% faster processor, more storage and now with touch interface. the Voyage is the thinnest Kindle ever at a scant 7.6mm thick and boasts a 6″ display with Carta e-paper technology and adaptive front light that adjusts automatically. the display has 300 pixels per inch to deliver "laser-quality text and images" and has a flush-front display stack that uses specially strengthen glass for scratch resistance property. the cover glass is further treated with micro-etched to enable reading under the bright light, sans the glare, and also serves to give the device a paper feel. page flipping also gets an upgrade too. it is now equipped with PagePress, where a light press on the bezel gets the flips the page and at the same time, offering tactile feedback. the pressure to trigger the page turn is customizable, so is the haptic feedback level. with the Voyage, you will also get free 3G service too. the Kindle Voyage is now available for pre-order, starting at $199.
as for the new $79 Kindle, it is now with a faster processor, double the storage, and incorporates touch interface, along with all the features you are familiar with. it has a compact 6″ display with Pearl e-paper technology and 167 ppi to its name, and a sizable 4GB of on-device storage, which translates to more ebooks than you can read in your lifetime. in short, it is the Kindle you already know with upgraded processor, storage and also allows for touch interface (this is the third time we are saying this), leaving us pretty much nothing much to talk about, well, maybe except for the price, which you probably already know it is 79 bucks.