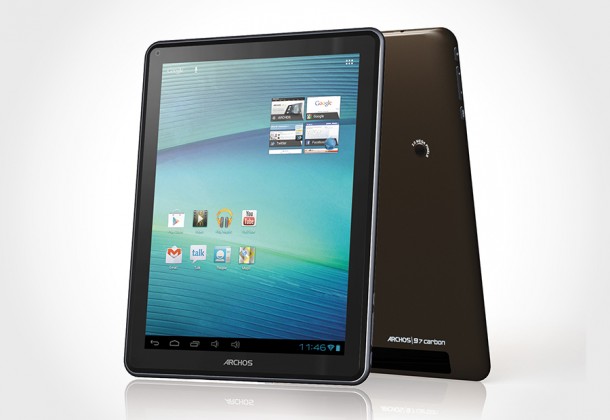 Archos 97 Carbon | from US$229.99 | www.archos.com
the increasing popularity of Google Play gives consumers another reason to go Android. however, buyers often met with the same question when they are researching for one: do they really need a huge 10-inch display or would a 7-inch tablet be suffice? my opinion? 10-inch is good size for multimedia viewing and surfing the Internet but hardly as portable while 7-inch is a little too small for us to fully savor our multimedia contents. lucky for us, there exist an in-between size like the 9.7-inch. speaking of which, ARCHOS has one to offer from its "ELEMENTS" range of tablet, dubbed as the 97 Carbon. though bearing the name "Carbon", it is not crafted from carbon fiber or any carbon composite material. instead, it has an elegant brushed aluminum body that measures 11.5mm (0.45 inch) thick and weighs in at 620 grams (21.8 oz or 1.37 lbs). it makes sense to go on the timeless aluminum route, or else it wouldn't have an affordable price tag starting from $229.99 if it was crafted from an exquisite material like carbon fiber.
powered by Android 4.0 Ice Cream Sandwich, the 97 Carbon features a speedy 1GHz ARM Cortex A8 processor with 1GB of RAM, 16GB of internal storage, a micro SDHC slot expandable up to 32GB, a 9.7-inch capacitive multitouch IPS display (1024 x 768 resolution), a 0.3-megapixel front-facing camera, a 2.0-megapixel main camera, a full size USB port that allow USB flash drive to be used with it, HDMI out that supports full HD video mirroring to HDTV, WiFi (b/g/n) connectivity, a pair of integrated speakers, microphone, G-sensor and an internal lithium-polymer battery pack. additionally, the 97 Carbon also offers complete access to Google Play and a full suite of Google Android apps that include Gmail, Google Talk, Google Maps, Google Drive et cetera, plus pre-loaded Office Suite Viewer for viewing office documents. available from this month onwards, the ARCHOS 97 Carbon is part of the new "ELEMENT" tablet line-up that also includes a 7- and 8-inch item. hit the jump for a few more look at this gorgeous piece of gadget.