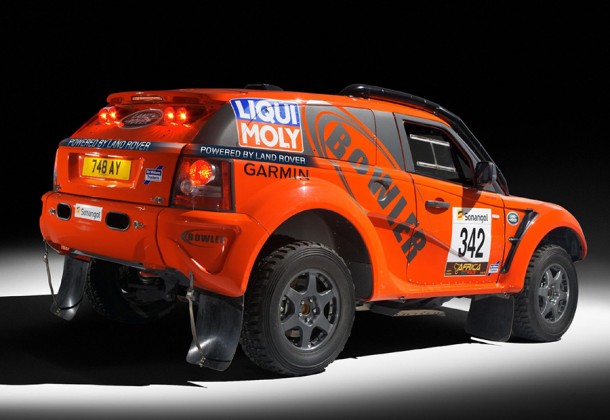 Bowler EXR-S | £155,000.00 | www.bowlermotorsport.com
want a ride that performs on the tarmac and equally capable of tearing through the Atacama Desert? then you will need a vehicle that is born out of arduous off-road competitions such as the Dakar Rally raid and the vehicle of choice is none other than the Bowler EXR-S. putting aside its race prepped EXR, Bowler now wants you to experience the same exhilaration and performance that Bowler's drivers have experienced. powered by a Land Rover-sourced supercharged 5.0-liter V8 unit which is remapped by Bowler to pump out a cool 550 ponies (410 kW) and 625 Nm, mated to a six-speed automatic gearbox that sends it launching from standstill to 100 km/h (62 mph) in mere 4.2 seconds, with all four wheels firmly sticking to the ground. it has an electronically limited top speed of 250 km/h (155 mph).
performance goodies include bespoke Bilstein dampers matched with Eibach progressive springs, a 285mm suspension travel, all round Brembo brakes (6 pots up front and 4 at the rear), huge 22-inch wheels wrapped in wide 305/35 R22 KUMHO tires, and composite body over hydroformed chassis with integrated FIA approved rollcage. other equipment includes bi-xenon auto leveling headlamps, two racing spec seats with three-point seat belts, passive key ignition, dual climate control, polycarbonate windows with sliding hatch, six-speaker sound system with Bluetooth and iPod control, auto dimming rear view mirror and a whole lot of usable cargo space that no supercar can offer without actually sticking a roof top box. it is one sexy beast that is totally capable of eating most typical sports car for breakfast – both on and off the road and still won't feel out of place when dropping your kids off for soccer practice.
the Bowler EXR-S is now available for pre-order for a bank account-crunching sticker of £155,000 (around $240,000) and that's not including tax, which we thought you should know.
Bowler via Gear Patrol