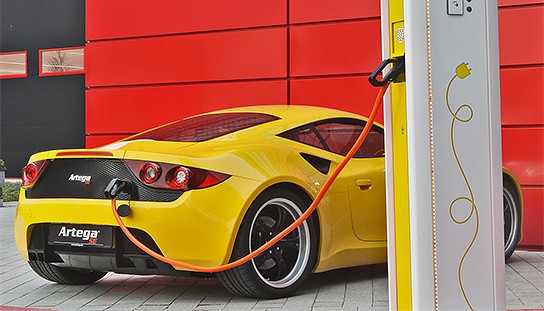 (image credit: Artega Automobil GmbH) Artega Sports Electric | €150,000.00 | www.artega.de
all electric sports car segment is a fast growing market and the latest to join this segment is the Artega SE (Sports Electric) from the young German automobile maker Artega Automobil GmbH. based on its petrol version Artega GT, the SE (Sports Electric) is powered by two electric motors on the rear axle with a total output of 280 kW (380 horsepower). these two engines run independently of each other, driving the rear wheels.
electric motors draw its juice from 16 battery modules, each containing 12 lithium-ion polymer cells. of the 16 modules, 12 modules are located in the rear of the vehicle and another four, up in the front. the 310 kg battery set-up is water-cooled and is capable of 37 kilowatt/hours with a nominal voltage of 350 V. on the performance department, the dual electric motor allows the Artega SE a century sprint of just 4.3 seconds and has a top speed of more than 250 km/h. the expected range for the SE is between 200 to 300 km and it can be recharged using standard household electrical outlet.
the SE also supports fast charging in 90 minutes using dedicated charging stations. build on aluminum space frame, high strength steel and alloys reinforced with carbon fiber, the SE weighs in at a pretty hefty 1,400 kg. the Artega SE was showcased at the 2011 Geneva Motor Show and is slated to be available later this year for about €150,000 (around US$211,485). the Artega SE will be manufactured "by hand" at Argeta's manufacturing plant in Delbruck, Germany.