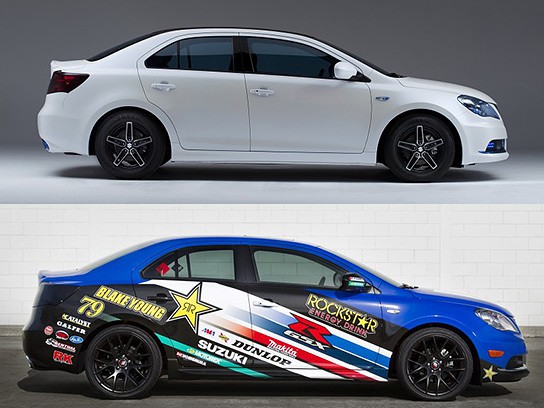 (credit: Suzuki via Gizmag)
Suzuki has unveiled two concepts that sit on two opposite end of a scale: one is an eco-centric hybrid while the other, on the performance-centered end. both cars are based on Kizashi (also known as SX4 in some countries). the first to grace the floor of the recent New York International Auto Show is the Kizashi EcoCharge hybrid concept. the hybrid is powered by a 106 kW 2.0-liter, 4-cylinder petrol engine and a 15 kW electric motor with a 115 volt air-cooled lithium-ion battery setup, mated to a six-speed automatic transmission.
[ad#Google Adsense-text-468×60]
the Kizashi EcoCharge hybrid concept features regenerative braking, engine start-stop system, fuel cut-off during deceleration, light-weight alloy wheels and low-profile rolling resistance tires. according to to Suzuki, the hybrid betters the petrol only version fuel economy by 25 percent. not that much as we have hoped for but a saving is a saving. the important point is, if this vehicle makes it to the production, the price point should justify for the modest saving.
the other end of the scale is the Kizashi Apex Concept. instead of an electric motor, the Apex features a force induction system, courtesy of a Garrett turbocharger, on its 2.4-liter 4-cylinder petrol engine. performance is all about getting your legs and hands busy, hence the Apex is mated to a six-speed manual transmission and topping off the performance DNA, is an electronic boost controller on a maximum boost of 8.5 psi (1.5 bar) assisting the Apex in achieving a projected peak output of between 210-220 kW range.
on the aesthetic department, the Apex gets an sporty makeover based on Suzuki motorcycle racing colors, LED-based fog lamps, 19-inch alloy wheels and the interior sports a serious black leather upholstery. honestly, i never took the Kizashi sedan seriously before, perhaps, it is time for me to change my perception about it now.
via Gizmag