Can enough of speed? Well, in that case, you will have take a jet aircraft, but for those with a burgeoning bank account, look forward to the Aston Martin Vulcan. The Vulcan is the British automaker's track-only car, which we are obliged to call it a race car. It is a shame that it is only for track, because this baby is going to turn heads whenever it goes. Powered by a massive 7.0-liter V12 petrol unit, this beauty puts out over 800 horsepower and wears a body that's styled entirely in-house by the Aston Martin design team lead by Chief Creative Officer Marek Reichman and it is look into the future design language of the British marque.
And did we mention that it is a true sports car? It is mid-engined and rear-wheel driven, which, with 800+ horses, will be quite a stallion to tame and that's precisely why the purchase of the vehicle will include training sessions using rides like V12 Vantage S, One-77 (!) and Vantage GT4 race car, which should warm you up for this monstrosity. Power aside, this car touts an incredible power-to-weight ratio that is said to exceed those of the GTE cars which compete in the FIA's annual World Endurance Championship. So you know you are getting some serious track-focus machine here.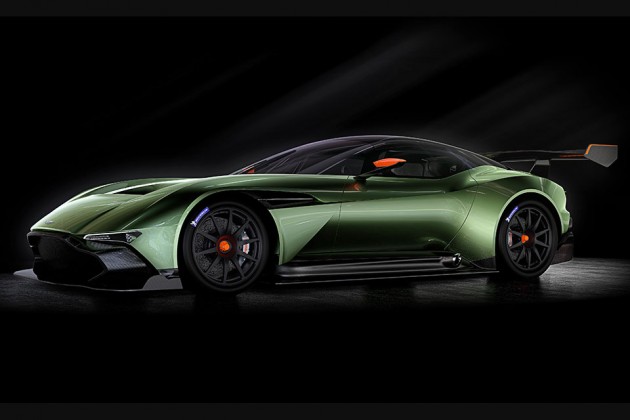 Other worthy mentions (and I do mean worthy mentions) includes a carbon fiber monocoque, integral limited-slip differential, magnesium torque tube with carbon fiber propeller shaft, Brembo racing calipers on carbon ceramic racing discs (380mm front and 360mm rear), humongous 345/30 x 19 rear wheels wrapped in Micheline race-spec rubbers, race-bred rear mid-mounted Xtrac six-speed sequential shift gearbox, track-derived pushrod suspension with anti-dive geometry, Multimatic's Dynamic Suspension Spool Valve adjustable dampers, anti-roll bars front and rear, driver-adjustable anti-lock braking, variable traction control and most importantly, it will comply with all relevant FIA race safety requirements. All that's left is to brush up your skills to tame this beast.
The Aston Martin Vulcan made its world debut at the 85th Geneva International Motor Show, Hall 5 #5253 at 10.15am on Tuesday March 3, 2015. It is a limited edition ride, so if you want one, may we suggest you start talking to your local agent.