Electric-powered skateboards are ok. They could save you some leg works when shuttling between point A and point B, but until now, they plagued by weight issue and they are anything but discreet; meaning the external motor(s) makes them pretty unsightly. If those two things irk you, then look no further than the Inboard's electric skateboard – the world's first and only skateboard with in-wheel motors, which pretty much eliminates both aforementioned 'issues' with today's electric skateboards. Driven by patented, weather-resistant Manta Drive in-wheel direct drive motor, the Monolith as it is called, negates the need for external belt system and therefore achieving significant weight saving and drive efficiency. In-wheel motors also gives it a boost in the aesthetic department since no external motors are visible. In fact, it looks almost like any traditional longboard with no hint that it is actually electric-powered.
Like electric drive automobiles, the Monolith also boast regenerative braking, harvesting the energy generated during braking and puts them back into the battery. Control over the skateboard speed is achieved through the use of a dedicated RFLX remote or if you so desired, though your smartphone using a companion app. Communication between the board and remote or app is through Bluetooth LE. The companion app also allows you to dictate the top speed and rate of acceleration, and even hook you up with other Monolith riders. Another first for electric-powered skateboards is swappable battery, which allows you to swap out depleted battery for fresh one, so you can continue the kick-free commute. Full recharge will take 90 minutes, which you can do so with the battery inside the Monolith or recharge it as a standalone battery pack.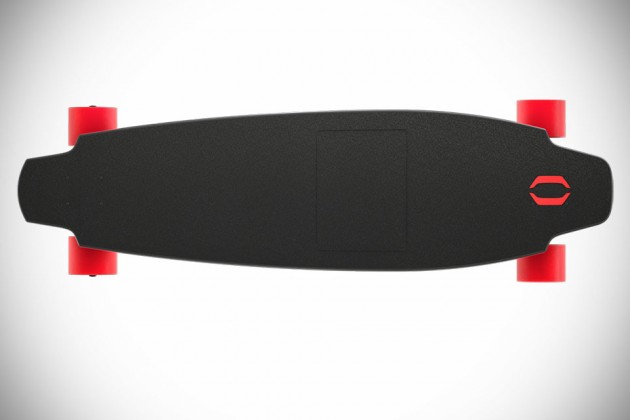 There's an always-on USB port, known as USB Connect, right up at the nose for sharing the board's juice with your USB-powered gadget, but more interestingly, it has a "daisy chain charging" function which allows the Monolith to be charge together with the RFLX remote using a single outlet. There is no mention of how thick the board is, but from the look of it, we'd say the profile is reasonably slim, but still packing the required electronics and battery pack that makes the Monolith ticks. It, btw, has a "lightweight composite" unibody deck. The Monolith is capable of a pretty intimidating top speed of 24 miles an hour (39 kmh) and makes 10 miles before needing to be recharged. And as a finishing touch, it gets lights on the nose and tail of the board as an added safety feature.
Inboard Monolith Electric Skateboard is a real-deal, but before it can be a reality, it need some financial assistance. It is running crowdfunding campaign on Kickstarter where a pledge of at least $1,099 will guarantee you a set for August delivery. But that's provided that the campaign meets its minimal funding goal of $100,000.