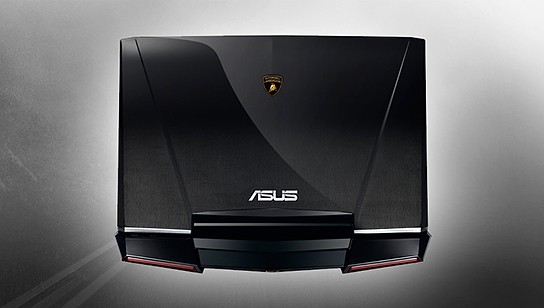 ASUS-Automobili Lamborghini VX7 Laptop | US$2,299.00 | www.asus.com
Asus collaboration with super car maker, Lamborghini goes back a long way. joining the list of growing Asus-Lamborghini collaboration is this ASUS-Automobili Lamborghini VX7 Laptop. in fact, the VX7 isn't all that new with official words being passed sometime in March but that's not going stop me from featuring it cos' it is simply a beautiful piece of equipment. the VX7 took its design inspiration from the Murcielago LP640, thought only the aerodynamic lines and the tail end cueing that is isn't your run-of-the-mill laptop. so don't go around expecting a laptop shape like the LP640.
when you have a laptop associated with a fast car, every aspect about it has to be speedy and hence, powering this hefty 3.82-kilograms (8.42-lbs) laptop is the Intel Core i7 processor, backed by 16-GB of DDR3 memory. graphics department is equally speedy, thanks to the Nvidia GTX 460M GPU with 3GB of RAM and it comes packed with a pair of hard drives of 750-GB capacity each – which also explains its weight and size. it is hard to imagine anyone would for such 'designer' laptop then to opt for thinner and equally fast item, and not to mention one that has a significantly price point. though, you'd be paying for extra luxurious touch like leather palm rest with contrasting stitching and a choice of three colors: glossy pitch black, scorching bright orange or the newer carbon fiber item.
other features include Blu-ray writer, a single USB 3.0 port, three USB 2.0 ports, built-in WiFi and Bluetooth connectivity, 8-in-1 card reader, HDMI out, and a full HD 15.6-inch LED display with 2.0-megapixels webcam wraps up the package. actually, not really, it also comes bundled with a Lamborghini backpack and mouse – all for the price of $2,299. while some of my post consists of coming soon products, this ASUS-Automobili Lamborghini VX7 Laptop is available in the market for your taking – if you don't mind the heft, bulk and the price.