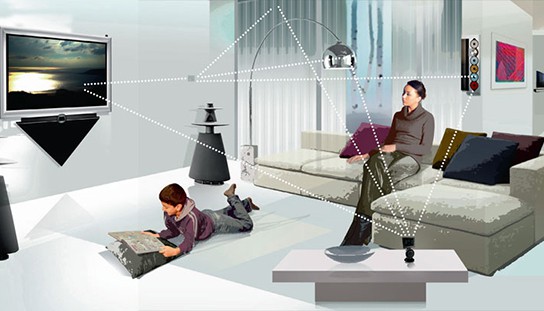 (image: B&O) Bang & Olufsen Home Integration | US$POA | www.bang-olufsen.com
another effort by Bang & Olufsen in an attempt to make your life easier, so to speak. introducing the Home Integration with BeoLink. BeoLink is not your ordinary universal remote. in a nutshell, the system consists of a few components that brings together your home entertainment and home automation system into a single point of control. 'working harmoniously' is the key for this system where it attempts to, for example, dim the lights, close the curtains and turn on your TV and home theater for a movie screening in your home. another part of the integration is, example again, dishing out Internet radio music in your kitchen speakers from the main unit in the living room.
[ad#Google Adsense-text-468×60]
linking all these devices and automation system together is the B&O Master Link Gateway, which users can control all the linked devices and system via the odd space-age looking Beo6 remote control. we thought the Beo6 looks kind of cool, though it is obvious it is not meant to be carry around but more of a central control piece in the living room. for a more portable control solution, the B&O home integration can be control with BeoLink for iPhone app or the Beo4 remote control. both which will be able to execute the same functionality as the Beo6 remote control.
wireless network is the key for this system, which in case you don't already have one, the B&O Home Integration also offers the BeoLink Wireless 1 wireless solution to complete the set-up, B&O-style. the BeoLink Wireless 1 is a transmitter and a receiver which users will need at least one of each to operate. remember the part of streaming to everywhere house in the house? that's the work of the BeoLink Active which makes integration of Bang & Olufsen audio and video products with all BeoLab loudspeakers.
there are no words on how much each component of the BeoLink will cost or how much for a full package at this point. but knowing Bang & Olufsen, we can assure you it's not going to be cheap. it certainly sounds like a perfect future-home solutions which we would love to have. basically what the B&O has to offer with its BeoLink Home Integration is limited only by your imagination, and of course, money. for all you know, you could choose to project a ceiling full of stars when you hit the sleep button too. cool.