The price of watch winders are often prohibitive. Of course, if you can afford tons of exorbitantly priced watches, then you will probably have no qualm about dropping several hundreds or even thousands for an aesthetically pleasing and feature-packed watch winder. However, the market is not without other options, including cheap solutions that comes with questionable reliability. Lucky for those who are on budget, there's Barrington. Unlike many companies, the British company is a specialist who only deal in watch winders and nothing else and it's Barrington Single Watch Winder is one such affordable item, which we are fortunate enough to review today.
As of now, Barrington has quite a selection of watch winders, ranging from single to double to multi watch winder that could hold as many as 12 watches. The model we have is the company's entry-level unit, or should we say, the one and only single watch winder model and it is offered in seven hues, including red, blue, white, yellow, orange, green, and of course, black, which is the unit sitting on our desk right now. Black is a decor-failsafe color, which plays well with virtually any interior.
Though, being black and in glossy finish, it can be quite a dust magnet and to some extend, a dust magnifier as every single white speck could be seen in its full glory and that's not to mention it is totally fingerprint-friendly, which means clean freaks may find the need to constantly give it a wipe down with the supplied soft, lint-free cloth to maintain its glorious shine. Otherwise, it is as classy and elegant as a watch winder can gets, and a fitting accessory to any luxury automatic watch. To be honest, I can't help glancing at it as it sits on my desk waiting to be reviewed.
We received the package last Friday, but we took the time to test out its battery-powered capability for a full week and so far, the pair of GP Ultra batteries are still kicking even as we speaks. The reason why I take its battery-powered feature as a priority is because of our experience with a big brand name winder that loses battery power in just a couple of days and that obviously, is not ideal if you do not wish to deal with cumbersome power supply cable, or if you just want to bring it on a trip where battery power offers the convenience.
However, I do recommended that you go with AC power for permanent power solution with the supplied adapter (EU or US pin available on request) as batteries will run flat eventually and you don't want to be caught in the situation where the battery runs flat and it stops working without your knowledge because it does not have a battery indicator. It does have an LED indicator up front, but that's an operation light that only lights up if the watch winder is in session.
While the watch winder is relatively compact, measuring 11 x 11 x 15 centimeters, it is by no means travel-friendly (though it can be, if you have the luxury of luggage space). However, it is still small enough and will not take up a lot of desk real estate. It offers three standard winding directions, namely clockwise, counter-clockwise, as well as alternating-direction, and five turns-per-day (TPD) adjustment. Settings are done via two dial knobs around the back of the device, set on a chrome plague background. The turn direction knob is also the on/off switch to the device.
The TPD offered are 650, 750, 850, 1,000 and 1,950. The dial feels rock solid and requires a fair bit of twisting force to turn and clicking firmly into the selected positions. There is absolutely zero free play present, which, in my humble opinion, is a hint of good workmanship. The back is also where you can find the AC socket, along with the AA battery compartment. The turning motion is driven by a "ultra quiet" Japanese motor, which is not audible in the day, but in the dead of the night, you can actually pick up some noise. Though I have to stress that it is barely audible unless you strain to hear it and hence, it is never annoying or whatsoever.
For those who are hypersensitive to noise, you won't be haunt by the barely audible whirling noise cos' the watch winder only works for 12 hours and rest for the next 12 hours, before another 12-hours cycle starts. And it, of course, won't be winding continuously; it will stay rotating for around a minute and pause based on the selected TPD before resuming another one-minute session. The higher the TPD, the shorter the pause will be. On the review unit, I placed a Bell & Ross BR-01-92, set it on bi-direction and 650 TPD wind, and watch is still ticking over a week on it. So I guess that pretty much covers the function part of things.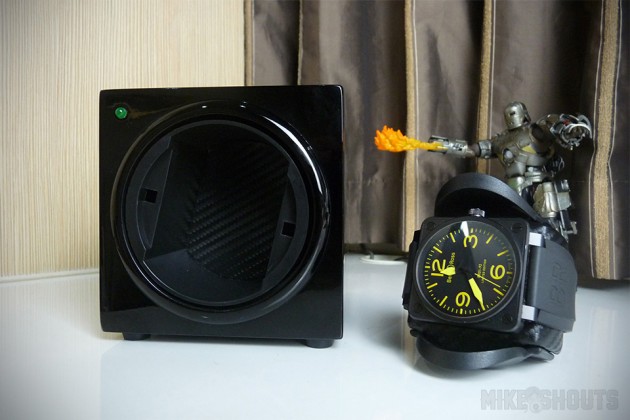 On user-friendliness, it is super simple to use and has a pretty ingenious watch holder. Though, the holder's material, which is of plastic, looks a little 'unclassy'. But I guess the carbon fiber patterned fabric-wrapped watch cushion is kind of a saving grace. It balances out the plastic to give the device an elegant look in its entirety. Placing your watch on the watch holder requires you to remove it from the winder by 'squeezing' the ears of the cuff. After which you can then proceed to secure your watch to the holder. The holding power of the watch holder to the winder is solely through the springy nature of plastic material, which I suspect it may loses over time with repeat release and reinsertion. There were a couple of times when I slot the holder back into the winder and it does not fully click with the device and tucking on the cuff, results in the holder popping out again.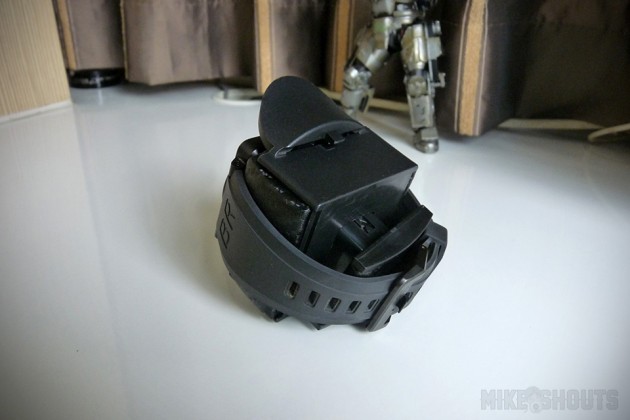 There's a spring-loaded extendable support around the back of the holder, at the watch clasp position. Pressing it down extends it by an inch or so to accommodate watch with longer straps or bracelets. This also the less refined part of the entire setup. The extendable support is molded plastic and feels, well, very plasticky and I do not know if it is intentional for it to wobbles side to side. And it does makes a little squeaky sound as it is being pressed upon. Then again, you won't be looking at this part often. And oh, there's the curved slightly cushion on the support too, wrapped in the same carbon fiber fabric, to prevent it from scratching your precious timepiece.
The Barrington Watch Winder may not be the perfect watch winder money can buy, but it does what it is supposed to do i.e. functional and apart from the holder, it actually looks pretty classy for a watch winder that cost just £99 (about US$155). However, the real kicker here is, it hails from a company that actually lives and breaths watch winder, and who is determined to bring everything that a watch enthusiast wants in a watch winder at a reasonable price point.