The Takara Tomy "Linear Liner" you see here is not your typical model trains. It is modelled after the new Maglev Shinkansen, aka the bullet train, that is currently under testing by Central Japan Railway (JR Central). The real train has in recent months broke its own 12-year-old speed record of 590 km/h, achieving over 600 km/h in April's test run on a 1.8 km test track near Mount Fuji. Of course, the toy version of Japan's very own Maglev train is not going to make that same speed. That will be insane (and potentially deadly, to be honest). Instead, it makes a comfortable 6 to 7 kilometer an hour, which works to out to be over 500 km/h at scale speed.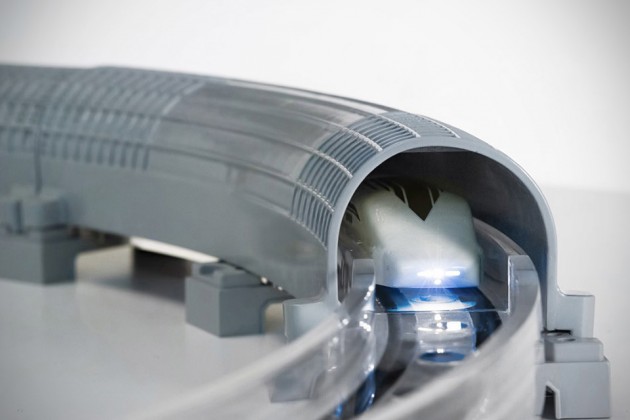 The most amazing part about this toy set is, it actually uses the same magnetic propulsion technology that drives the real-life Linear Shinkansen, but instead of hovering 10 cm above the track and having concrete side walls, the Takara Tomy Maglev Train Toy floats at 2mm above the model track and has clear side walls, letting you have a view of the levitation in action as the Linear Liner rockets around the oval track. Speaking of the track, it comes complete with a train station (which is also the control station and charging point), and the obligatory bridge and tunnel.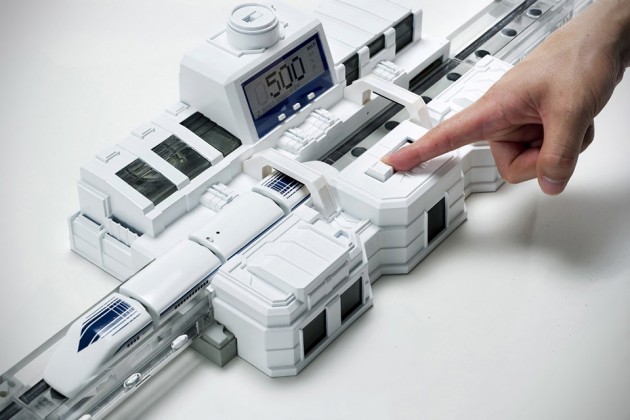 At the moment, it looks like it is going to be a Japan-only item. Residents of Japan can pre-order the Takara Tomy "Linear Liner" Maglev Train Toy via Takara Tomy web store for a cool 37,800 Yen (about US$320). Official release date is expected to happen on September 19, 2015. Those outside of Japan need not fret either; you can pre-order this super cool toy train set through Japan Trend Shop, albeit at a pricer $442 per set plus $42 for worldwide express shipping.