Imaging drones are a dime a dozen and with pioneers like DJI having a rather strong foothold in the market, it seems like unless the competing drone that swims, or bears any unique feature, it is likely to be overshadowed by the current established makers. But despite so, Erida Gen B by Atlas Aerospace managed to grab our attention, thanks in part to its uber sleek, full-carbon body. Leveraging on this space-age material, Erida managed to kept its weight down to a lightweight 900g, which in turn yields a pretty impressive flight time of 35 minutes.
Add a quick swappable battery system in the mix, you could have an infinite of flight time to capture what you need and possibly, slicing some post-production time in the process as now you can do longer continuous shots. While carbon fiber is both aesthetically pleasing and improve performance, it does have its caveat; it tends to inhibit wireless transmission, be it RF signal or WiFi, which could be huge problem for flying gadget, but Atlas Aerospace overcome this inherent issue by locating sensitive components like GPS and laser scanner on a separate module, while the rest of the electronics are tuck safely inside the carbon fiber enclosure. On the flip side, its carbon fiber prevents the drone's electronics against magnetic interference that may put your flying imaging rig at risk.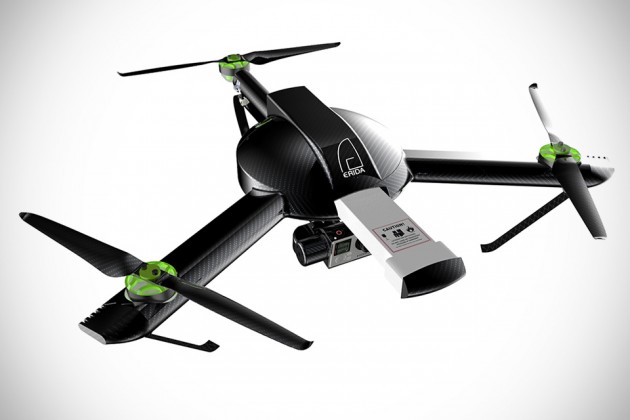 On the operation aspect, what Erida can do is pretty much what most drones do today, including auto takeoff and landing, follow-me mode, waypoint mode, et cetera, with controls and pre-programming executed through a mobile application. In addition, a smartwatch app will be available to enable you to dish out command to Erida right off your wrist and it, of course, can be controlled using a traditional RC remote too.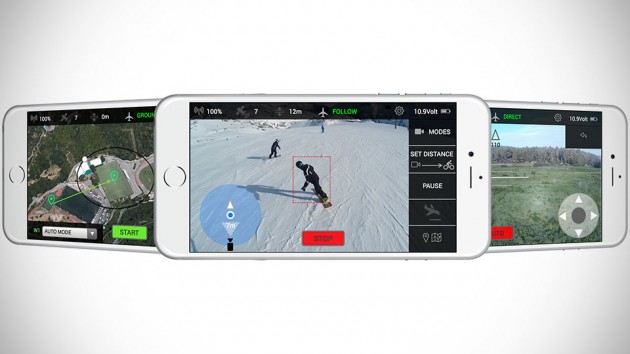 Other notables include a 300m range (or 1,500m with long range module), 50 mph top speed, maximum operational altitude of 4,500m, collapsible rotor arms for compact storage, and last but not least, a gyro-stabilized gimbal, ready for your GoPro Hero 3/4, Turnigy, Yi Cam or whatnot.
Erida Personal Drone is on a fixed funding campaign on Indiegogo where it aims to raise $85,000 to finance the production. Limited quantity is going at $799, which will come with a super sleek carbon bag for storage and transportation. If you miss that, you're looking at a significantly hefty investment of between $1,099-$1,300.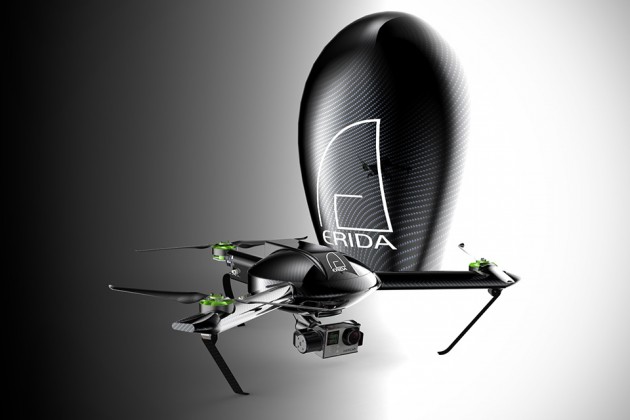 submitted via TIP US page.