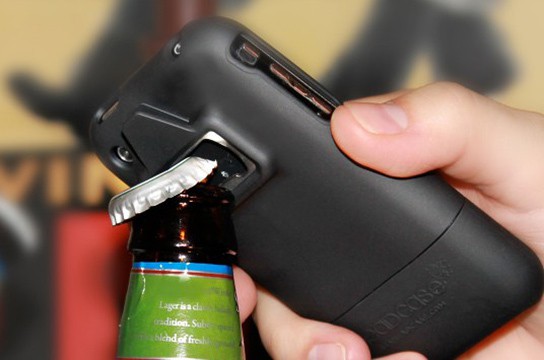 (image credit: Be A HeadCase) Be A HeadCase Bottle Opener Case | from US$19.99 | beaheadcase.com
what do you know? your iPhone can assist you in popping open your next booze, announcing with an anthem and keeps count on how many bottles you have popped. sounds impossible? you can, with the Be a HeadCase Bottle Opener case. basically, the Be a HeadCase is a ABS hard shell iPhone case coated with rubber with a stainless steel bottle opener built into its back.
so how does the case knows that you are popping your bottle of booze? well, your iPhone is the one that is going to know that, not the case. for a complete experience with the Be a HeadCase bottle opener case, first you gotta download and install the Bottle Opener Case app available free on the iTunes store. once installed and launched, the iPhone's accelerometer will detects when there's an opening action and displays an image and sound of your choice to celebrate the occasion.
in case you are those who keeps count of everything that you do, the app also keep tracks of how many bottle of booze you have opened. Be a HeadCase bottle opener case is available in black or pink and has cases for both iPhone 3GS and iPhone 4. there's a blackberry version coming soon too. prices starts from $19.99 for iPhone 3GS, $24.99 for the iPhone 4 and Blackberry versions.
via Gizmag