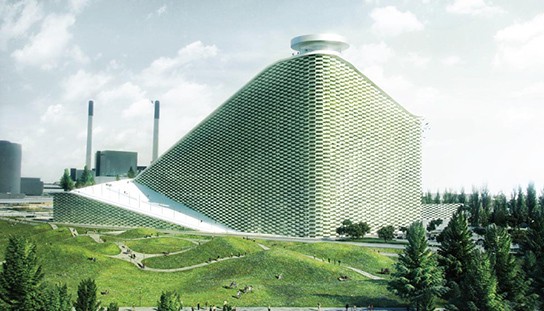 (image credit: BIG)
skiing down the side of a waste incinerator might not be a dream of every avid skiers but this particular building unveiled by Bjarke Ingels Group or BIG integrates a ski slope into a waste incinerator building which brings skiing vacation right into the urban landscape. the building, dubbed the Amagerforbraending or AMF in short, is expected to be located between the industrial and residential sectors of Copenhagen.
the AMF looks a mountain itself and would features 'recycled synthetic granular' materials in place of snow and there's no ski-lift here, instead, the skiers would take a ride in an elevator which runs along the smoke stack to reach the summit. while on their way up, the skiers will be treated to a view of the interior workings of the waste incinerator which wouldn't be a pretty sight. but what do i know? remember what we said about mountain? well, the facade is wrapped in modular grid of planters and windows that are accented with greeneries, making the architecture looks like a mountain in the city.
the roof will supports three slopes of different gradients and therefore, accommodating skiers with a broad range of experiences. the AMF will features more than 1500-meters of ski runs, which includes a terrain park.
having personally been involved in waste incinerator in the past, i can't help but to wonder how the foul smell that usually associated with a waste incinerating plant, will be curbed. while concept is limited by our imaginations but the practicality, in this case, presence of foul smell remains a gargantuan task to be dealt with. even if, as the concept touted to be, carbon dioxide and water vapor would be the only two elements being discharged into the atmosphere.
via Inhabitat