Motorola Flipout, Compulab Exeda, Nokia 3650 and Nokia 7600 were examples of handsets that does not conform to the norm of design, i.e. they have form factors that are pretty much out of this world, but how did they fared? obviously, those designs didn't go down very well with consumers and despite that, Blackberry went ahead and took a stab on the status quo of handset design with its latest, and if we may say, the boldest handset design with a passport-size phone called Blackberry Passport. on side note, Blackberry is not about to give up on equipping mobile professionals with, in their own words, "tools that make them more productive." so how will a large handset with an unusual square touch display help in their endeavors?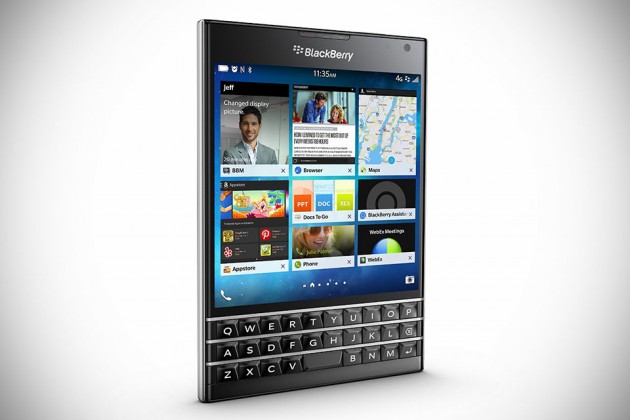 of course, there are the software that will do that, but more importantly, the large 4.5″ display with 1:1 aspect ratio and 1,440 x 1,440 resolution will let users see more and do more. you know? maps can be viewed in more completeness, video conferencing can let you see more people and stuff like that. the 453ppi display is protected by the current industry norm, which is none other than Corning Gorilla Glass 3 and sharing the front with the display is a newly designed do-it-all keyboard, touting a responsive touch surface like a trackpad that lets you execute many touch functions right on the keyboard such as scroll pages, flick to type or slide along the keys to move the cursor, thus leaving you with screen space for viewing and less of touching.
like the recently announced P'9983, it will run on the new Blackberry 10.3 OS, featuring Blackberry Assistant, Blackberry Blend, as well as access to Amazon appstore. on the spec-sheet, it is comparable to what today's high-end handsets have to offer with features like Snapdragon 800 chip with a 2.2GHz quad-core processor and Adreno 330 GPU, 3GB of RAM, a 13MP BSI rear camera with f2.0 lens and Optical Image Stabilization, 32GB onboard storage, and a huge capacity battery packing 3,450 mAh that provides up to 30 hours of mixed use. other details include microSD card slot that supports up to 128GB, USB 2.0 port for charging and synchronization, a 2MP front-facing camera with image and video stabilization, 1080p videoing at 60fps (rear camera) and 720p video recording (front camera), LTE radios, Bluetooth 4.0, dual-band 802.11a/b/g/n/ac, A-GPS, NFC, plus the usual suite of sensors, including one called Time of Flight (ToF).
usually we are less bothered by the phone size, but we ought to mention that this new Blackberry flagship measures 128 x 90.3 x 9.3 mm (5.04 x 3.56 x 0.36 inches) and tips the scale at a pretty hefty 196g or 6.91 ounces. with this size, it is definitely a phone that requires you to stretch your hand to hold it for calls. then again, if you are looking at a Blackberry, chances are you are a busy professional who uses a headset than actually puts a phone to the face. the extended width with questionable practicality aside, we thought the Blackberry Passport looks kind of cool and we are eager to see the acceptance level of this new found form factor. who knows? the Passport might very well be a game changer for the ailing Canadian communication company? if you are up for it, the Passport can be acquired as an unlock set through Blackberry online or Amazon for $599.