Suitcase designs have not quite evolved. Sure, you see some fancy ones that can take the torment of bull runs and stuff like that, but generally, they haven't quite catch up with the connected world, have they? Actually, yes and it all starts with the Bluesmart Bluetooth Suitcase, the luggage that's going to change how you look at carryon. It connects to your smartphone with a dedicated app which allows you to do loads of things, including digitally locking and unlocking it, set it to auto lock mode when it is separated from you, share access with your trusted one, and be notified when someone tries to open it. But what if you smartphone goes into the red? Well, that should be the least of your concern because Bluesmart's built-in battery carries enough power to charge a typical smartphone six times over and supports charging of two devices simultaneously.
When connected to the app, it can also tell you if it exceeds the airline permissible weight limit, alert you if you leave it behind, and in the event you do leave it behind, you can locate it with proximity heat map or view last recorded location to make your hunt easier. Its Bluetooth connectivity allows for location tracking for up to 200 feet, or up to 100 feet in congested and busy area like airport terminals. The app also keeps track of your travel too, logging in the distance you travelled, airport visited and more. Well, those are the tech side of this high-tech suitcase. As a suitcase, it is naturally sized as a carryon so you can breeze though the gate without bothered with the belts and it is fitted with Travel Sentry Approved Lock, which means it is totally TSA-friendly, and you don't have to worry about the built in battery because according to its creators, the suitcase's 37W lithium-ion battery is well within the FAA regulations with regard to battery onboard.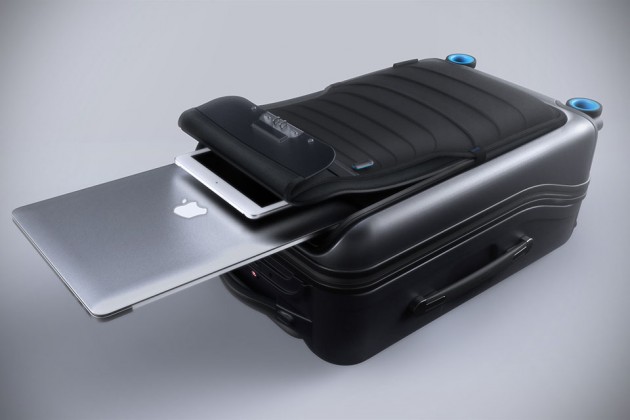 Bluesmart is designed with easy access to your electronics for swift security check and boasts a 3-layer polycarbonate construction, complemented by waterproof zippers with polyurethane covering, and is wheeled around via four hubless spinner wheels. Rounding up this ultimate geeky travel gear is a retractable handle in anodized aluminum. If you don't want to whip out your smartphone, then hold out for the smartwatch apps coming your way, so you wield control over your lovely Bluesmart Bluetooth Suitcase right from you wrist. You can't get an geekier than this, can you? Already itching to score one? Then head on down to Bluesmart's Indiegogo campaign and pre-order one for a bargain price of $265. There is a catch though. You won't be jet setting with this lovely until August 2015. But before you go, we recommend that you catch a really cool pitch video below.