Bowers & Wilkins may be late in the portable Bluetooth speakers game, but it is all for a good sonic cause. It might have taken a little more time to get the sound right and in this case, to reproduce real hi-fi sound out of the firms's first portable Bluetooth speakers, T7. In order for the T7 to deliver high-fidelity audio in such a compact form, B&W employs an ingenious design called Micro Matrix, which is a honeycomb structure bracing system that surrounds the entire perimeter of the speaker lending it the stability and reduces vibrations. The advanced bracing is derived from the company's reference 800 series Diamond speakers found in the legendary Abbey Road Studios and T7 has the honor of being the first commercial application of this technology.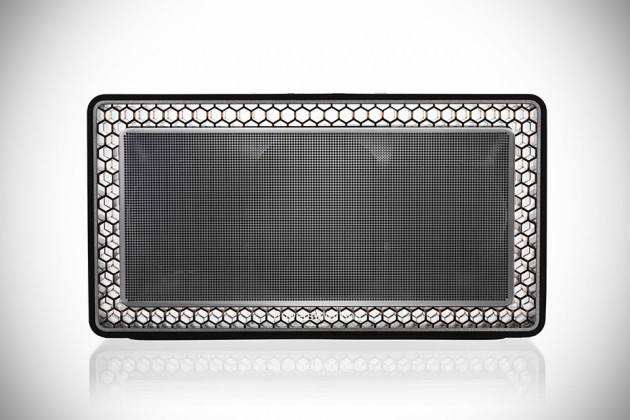 Having the stability and vibration aspects addressed, it is time to introduced the main driving units to it, to which the T7 calls upon a patent-pending two force-canceling high-output Auxiliary Bass Radiators and two highly optimized 2-inch glass fiber diaphragm drivers, and the result is what the company described as "staggering range, depth and richness" that doesn't crack the speakers even at high volume. Finally, aptX Bluetooth wireless audio transmission ensures audio details won't be lost in transmission as you stream audio direct from any Bluetooth-enabled sources. But that those are not all. Ensuring the aptX Bluetooth's effort will not go in vain, high-performance DACs are incorporated to ensure the audio stays as faithful as possible to the source, while Digital Signal Processing provides a controlled and balanced audio output.
Also packed into the T7 are two filterless 12W class D amplifiers, delivering "smooth and open high frequencies, intelligible midrange frequencies and tight bass." So there you have it, the ultimate in on-the-go high-resolution audio streaming is a reality and you can pick one up for $349.99. And oh, did we mention that it has a capable rechargeable lithium-ion battery that offers up to a long 18 hours of playback? Yup. It does. Keep going for a few more look.