If you are a true blue BMW fan, you know 2002 Turbo, the must revered and iconic BMW car. Born in the early 70s, it was the first production BMW to received a turbocharged engine and during then, it was a rare breed as not many cars had force induction during that era and therefore, it got quite an attention. Unfortunately, its existence was short-lived when the oil crisis came around but it had a fulfilling life then. Fast forward to day, after more than forty years and fifty since the design first came about, the BMW 2002 Turbo lives again, albeit one that you can't buy just yet.
Dubbed BMW 2002 Hommage, it is a design study that pays tribute the iconic car and unlike some BMW tribute cars, we thought this ride here has the closest lineage to the spirt of the 2002. To be honest, when we first set eyes on the Hommage, we weren't aware of the model name and we did not know it was BMW 2002 Turbo tribute car, but something tells us it has something to do the 2002 and indeed it is. While it may not be squarish-styling, it has the soul of it. BMW designers and engineers worked the original's sporting cues into the 2002 and the result pretty much speaks for themselves. It is beauty, just like its forebear.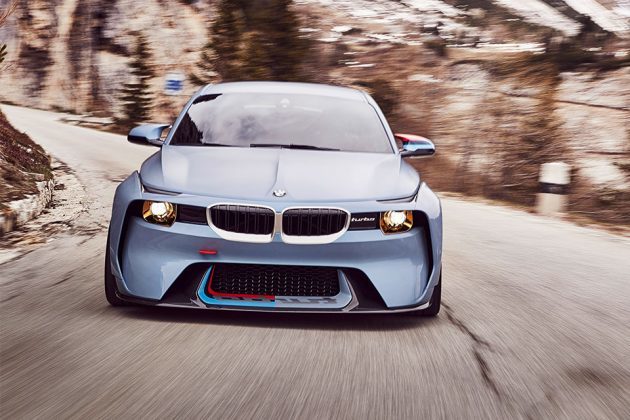 The 2016 iteration is muscular and possess an athletic stance, make even more pronounce by the wide track, building flares and low slung ride hide. There are a lot details – styling and all – that bears the DNA of the BMW 2002 Turbo but one single detail that keen eye fans will not miss: the turn signal repeaters are found on a full-width strip, separate from the headlights – just like the original car. The large front apron is also very much a design cue of vehicle that time time and one that was also found on the glorious 70s ride.
We thought BMW has done an excellent with this reboot, but there's just one piece of information missing: power plant. We were not at the Concorso d'Eleganza at Villa d'Este where it first debuted so we are not aware of what's moving this gorgeous vehicle. Anyways, it is a design study, so there's nothing conclusive about its fate and hence, I guess the engine isn't of an importance at this point. But if ever gets made, we hope to will be a track star like its forebear.