If I told you there's a book of cheese, you probably expect it to contain texts and images of cheese, and possibly recipes for cheese-based snacks and dishes. Well, not with this book by Ben Denzer.
This book, called 20 Slices, is literally made of cheese. Like, super literally. Bound in between the yellow hardcover are twenty slices of Kraft American cheese wrapped in plastic sheets.
I don't know why we are featuring this here. I guess, 20 Slices struck us as super cool because, you know, cheese. Perhaps, the literal sense really gets us and put a smile on our face.
Ben Denzer is an artist and designer who has a thing for book production. His fascination with book production led him to craft books with unusual materials and content sources.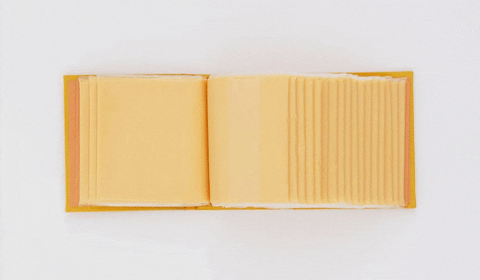 He has made books made from fortune cookie fortune slips, ketchup packets, napkins, and ice cream (aptly called, Ice Cream Books). This is not a joke, btw. This is art that speaks volume (pardon my lousy pun).
In fact this book is so real that some libraries have actually acquired 20 Slices by Ben Denzer. If you are interested, you can check out which are the libraries that has this book in their possession HERE.
Anyhoo, books haven't look this yummy before, don't you think? Wait a minute… So does silverfish look at books like I am looking at this book made of cheese right now? Perhaps.
Images: Ben Denzel via Catalogpress.
Source: Neatorama.