If Apple sticks to its 'tradition', it would mean the current iPhone 6's design will be carried over to this year's update and focus will be on the internals. The rumored unveiling date is said to be on the September 7, but luxe maestro, Brikk, is already offering 'pre-order' for the luxe-up versions of the rumored iPhone 6s and iPhone 6s Plus. Yup. You heard right. Pre-order of the iPhone 6s and 6s Plus. Dubbed Lux iPhone 6s, the collection consists of multiple models in a choice of finishes, including 24-carat yellow gold, 23-carat pink gold and 960 platinum, plated, of course.
"The Lux line stands out in that it is plated with 5.0 microns of gold or platinum which is certified per phone using laser and x-ray testing equipment. The actual device is disassembled, hand polished, prepared and then plated with five layers of various metals and two layers of either 24 carat yellow gold, 18k pink gold or 950 platinum. It is then reassembled and tested before being ready to ship to exclusive clients."
For those who demand even more opulence, there are four diamond encrusted models to go with, namely, Diamonds Small, Diamonds Large, Diamonds Select, and Diamonds Omni. The ultimate in opulence is, naturally, the Diamonds Select and Diamonds Omni, with each model boasting up to 50 carats of diamonds set on the phone's chassis.
"The diamond versions have diamonds (color DE and clarity VVS) set with a microscope in a custom machined bezel in the shape of Brikk's heptagon logo."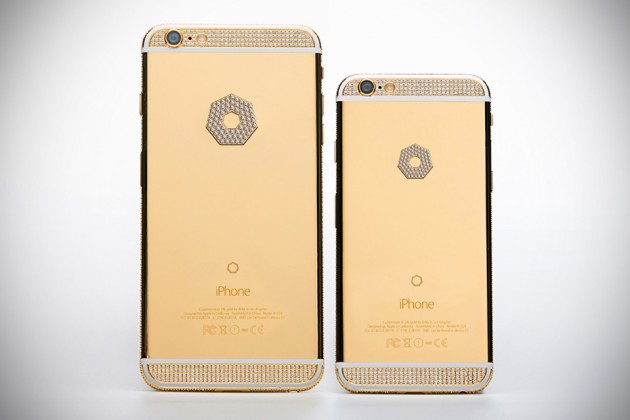 Brikk will be accepting pre-orders for these luxe versions of the upcoming iPhone 6s and iPhone 6s Plus (assuming, Apple sticks to its naming tradition) starting from August 13, 2015, which the Los Angeles-based outfit is expecting to ship out 3-4 weeks after the official availability. In a way, Brikk is offering wealthy iPhone lovers the opportunity to own them without the hassle of queuing or facing the out-of-stock situation.
Prices start at $7,995 for the standard plated models and runs up to a cool $199,995 for the range-topping Diamonds Omni models. The latter will come packaged in a custom Zero Halliburton case with carbon fiber and suede leather interior, along with the accessories and documentations standard to the device. There is, of course, a certificate of authenticity for the diamonds.