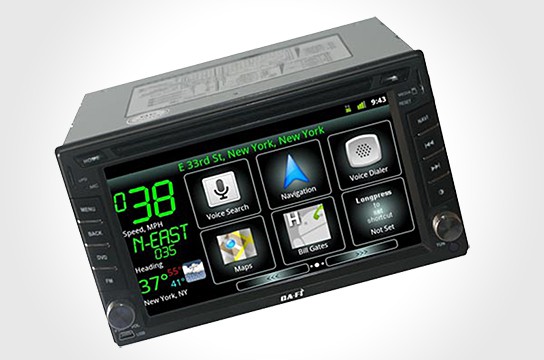 (image: Innotrends) Ca-Fi System | US$tba | ca-fi.com
the outreach Android OS is fast surpassing that of Windows (obviously) and iOS platform. we heard about talks by automakers to integrate Android OS into their vehicles but that was just talks and it remains to be seen if it will be delivered. then again, even with the integration, it will be part of the new car that you buy. so what about those existing rides? well, it seems like Hong Kong-based startup, Innotrends has the answer in the form of Ca-Fi System, a double DIN Android-based in-car infotainment system. from the image, the Ca-Fi looks just to be another double DIN system but under the hood, lies a Freescale Contex A8 i.MX5x processors, a 3G modem and it is, of course, powered by Android 2.3 OS. the system features a 6.2-inch resistive touchscreen display with a resolution of 800 x 480 pixels, an integrated DVD player, Bluetooth connectivity, dual microSD slots and supports 4 x 45-watts of audio output.
[ad#Google Adsense-text-468×60]
Android OS offers a perfect platform for in-car infotainment with functionality like surfing the Internet (with 3G), downloading of a variety of motoring related apps from the Android Market, such as navigation or fuel consumption monitoring. with its widespread adoption, i am pretty sure more apps will be appearing in support for a more enjoyable motoring experience. additionally, the Bluetooth connectivity allows for hands-free calling, music streaming and according to its maker, the system can be hooked up to the steering wheel stereo controls, if any. the Ca-Fi System will make its world premiere at the Hong Kong Electronics Fair from October 13 – 16, 2011. no word on its pricing or availability but we understand that Innotrends has set it sight on the European market launch sometime in Spring 2012. hit past the jump for the official press release.
A perfect match: Automobile Infotainment system running on
Android ™
Innotrends Ltd, a Hong Kong based company, has in collaboration with hardware
and software developers created an innovative 2-DIN Car infotainment system that
is built on Android ™ 2.3 and powered by a 1.2 GHz processor. Their Ca-Fi system
will be among the first Android™ systems to be launched on the market.
A 3G modem allows surfing the Internet, as well as downloading apps for a variety of purposes, such as navigation or fuel
consumption monitoring. Furthermore, the device has Bluetooth hands-free calling, music streaming and can connect to steering wheel stereo controls.
The Ca-Fi system interface is a 6.2 inch touch screen LCD, with a resolution of 800 * 480 pixels. The screen is large enough to have ease of access to applications and GPS. In addition to the 4x45W audio, output connections are available for camera, USB and antennas. Supplemented by a DVD player, two slots for MicroSD cards for multimedia and navigation data, the Ca-Fi system is a real information and entertainment center for automobiles.
The Ca-Fi system, in contrast to the "in-house" developments in the automotive industry, provides the user maximum freedom in customization. The infotainment system will be shown for the first time at the Hong Kong Electronics Fair from October 13th to 16th. Market launch in Europe is planned for spring 2012.
Internet: www.ca-fi.com
Innotrends Ltd was founded in March 2011 with objective of providing mobile
connectivity to the mass market with innovative high quality products. Further
information and media data can be found on the Innotrends website:
www.innotrends.com
[/toggle]
SOURCE: Innotrends
Thanks Hadrian for the hat tip!