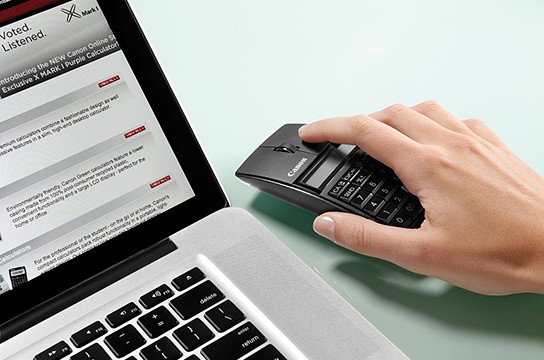 (credit: Canon) Canon X Mark I Mouse Slim | US$59.90 | usa.canon.com
honestly, a calculator is the last thing we expect to be integrated into a mouse but that's exactly what the Canon X Mark I Mouse Slim is. it is, in fact, a three-in-one device that serves as a wireless 1,200 dpi laser mouse, a 10-digit calculator, as well as a keypad. i'd say it might just be the perfect peripheral for any road warriors who aims to reduce their on-the-road clutter. if you often lug around a mouse, a calculator and an additional keyboard while on the road, the X Mark I Mouse just did you a flavor by cutting lose two peripherals for your next trip.
this 106-grams (3.74-ounces) mouse connects to the laptop wireless via Bluetooth connectivity and runs off two AAA batteries. the Canon X Mark I Mouse Slim is available in either black or white and is expected to hit the stores this month with a price tag of $59.99. more look of the X Mark I Mouse after the break.