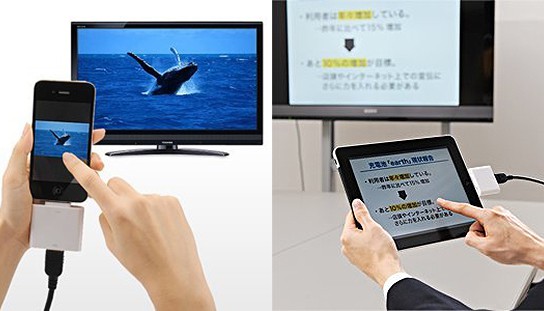 (image credit: Sanwa Supply) Sanwa HDMI Adapter | US95.00 | www.sanwa.co.jp
Sanwa announced a HDMI adapter suitable for use with both iPhone 4 and iPad, which allows you to view your videos on these iOS devices on the big screen in 720p resolution. i guess the 720p output makes it a 'pro' for this item, as for the cons, it only will only work with iPhone 4 and iPad. so iPod Touch users will be disappointed.
the price tag of US$95 is a little steep as compared to the original Apple 30-pin-to-component (which retails at US$39) item but it is hard to compare both as you can say that both are of different level. if you're looking for something that supports 720p playback, then this Sanwa item is the gadget of choice. however if 576p (maximum) resolution is cool with you and you need something that supports iPod Touch, the Sanwa item will not be the one to opt for.
seriously, i wanted to give it a try but the price tag, though not strictly prohibitive relative to my meagre pay, is still stopping me from giving it a shot. aside from video playback on your big screen, this adapter also enable the display of images or presentations generated from Keynotes. neat but i am not sure if i can justify the cost cos' if i could have transfer my movies or Keynotes to my MacBook and hook up to a projector or LCD display.
the Sanwa HDMI adapter is available at FlutterScape.