next month, North America's biggest aftermarket products and services for the automotive industry, SEMA Show, will throw its doors open and as always, trade visitors and media can expected to be wowed and wooed by some delightful treats dish out by tuning houses and major automakers. among them is this pair of custom Ford F-150 trucks, which the blue oval marque will be offering to vie for a fifth consecutive 'Hottest Truck' award. this year, Ford collaborated with Ford Racing's Brian Deegan and Formula DRIFT superstar Vaugh Gittin Jr., to turn two 2015 F-150 trucks into mind-blowing examples. each truck is at the different end of the spectrum.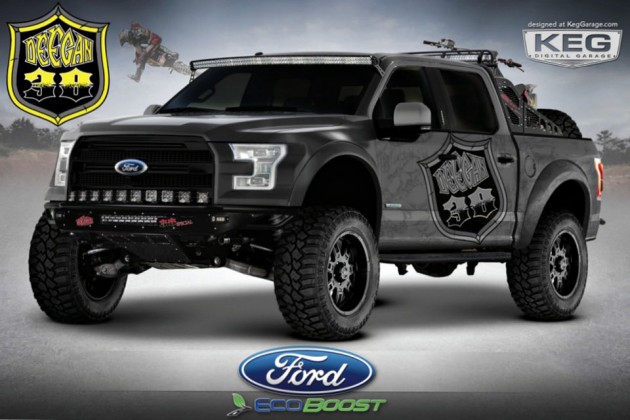 kicking off the duo is the Deegan 38, an extreme off-road F-150 that takes advantage of the 2015 F-150's powerful 3.5-liter twin turbo EcoBoost engine and loaded with extras supplied and supported by industry big names like Addictive Desert Designs, Mickey Thompson Performance Tires & Wheels, FOX Racing Shox, KC Hilites, Mastercraft Safety, Rockford Fosgate (but, of course!), Full-Race Motorsports, Leading Edge Turning, ProEFI and SCT Performance. the result is a truck that look almost post-apocalyptic (i.e. awesome).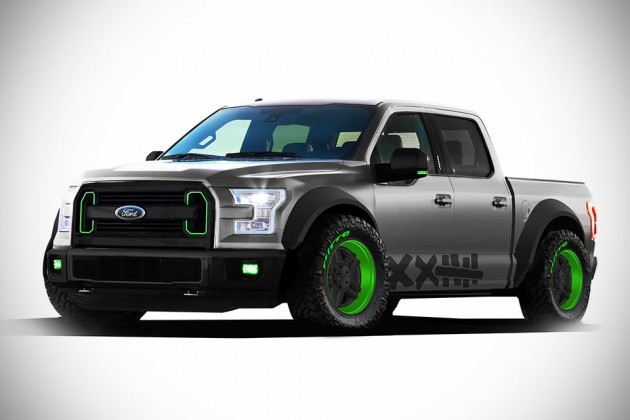 the Vaugh Gittin Jr.'s iteration, on the other hand, is, well, a drift truck. highlights include 12 inches of King shock-controlled travel via a Kibbetech custom suspension, Air Lift Performance air ride, and Recaro seats for all five passengers. yes. a five-passenger drift truck, because there is nothing like four person screaming in unison whenever you pull the corners. unfortunately, SEMA is not open to public and hence, the two images are what we have for now. perhaps, we could grab some official show images when the event officially kicks off.