If you ask us, we'd tell you that waterproof should be a standard feature in all smartphone. Lucky for consumers, waterproof smartphone is slowly getting traction, but waterproof alone is not enough because if you are in open waters, even the tightest water seal won't save your phone as it will ultimately sink to the bottom of the sea or lake floor. That, seriously, is something no one can do about but not if you happen to be using Comet Core Buoyant Smartphone. Billed as the world's first buoyant smartphone, this handset will float on water as opposed to sinking, so if you do dropped it in a pool, lake or sea, you won't need a diver to retrieve it for you. And that, my friend, is probably the most brilliant thing to happen to smartphone since waterproofing.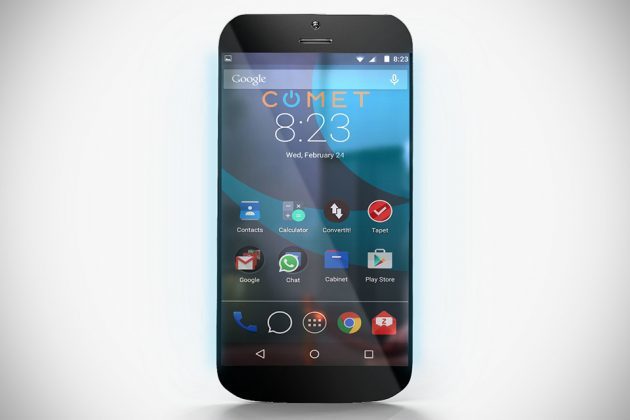 Being buoyant is just part of the story. Comet also touts several first for an Android device and it includes Quantum Lock or QLock which uses military-grade AES 256-bit voice encryption for secure communications. And there are some other fanciful features like Turquoise LEDs that lights up when there's an incoming call or message, pre-loaded bubble messenger, as well as an app "designed on biometric platform that detects your body temperatures and display a specific color to indicate your mood." Didn't we tell they are 'fanciful'?
Anywho, other key spec sheet details include a 2.0GHz octacore Qualcomm Snapdragon 810 processor, 4GB RAM, up to 128GB storage, a 4.7-inch FHD AMOLED touchscreen display, 16MP autofocus camera with OIS front and rear (both!), a 2,800 mAh battery, a plethora of sensors, and of course, IPX7 rated construction to keep fluids at bay.
Prototype of the device has already been built and tested with the product going on a crowdfunding campaign which garnered over $240,000 in financial backing late last year. If you missed it, you can still procure the device under Indiegogo InDemand program. Prices start at $279, though we are skeptical about the delivery date. On the campaign page, it stated "April 2016" which we interpret as 'will be deliver when ordered'. But we shall leave it you to be your own judge.
P.S. Based on the comments on the campaign page, it looks like the device has yet to be delivered.