You may ask: 'is this even a motorcycle?' Well, it is obviously a motorcycle and an extremely radical one to say the least. Conjured up by Alabama-based motorcycle builder Confederate, the G2 P51 Combat Fighter is no doubt a sight to behold. This second-generation Combat Fighter stays true to the ethos of the original Combat Fighter, but now sports the new CX4 architecture that composes entirely of a lighter, more durable 6061-T6 aerospace billet aluminum construction – from the frame right down to the engine block and heads and is push forth by a drag-derived, air-cooled 2,163cc V-twin motor that pumps out 200 horsepower and an astounding 180 lb-ft (243.7 Nm) of torque – thanks to an all-new head design and induction system.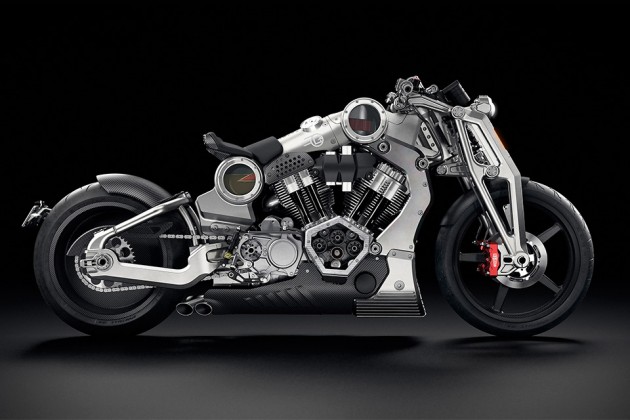 The bike also boasts an industry-first: a chassis with a structural intake box that ties directly into a CNC billet aluminum structural downdraft intake manifold. All told, the Confederate G2 P51 Combat Fighter has 40 more horses over its forebear, while weighing 12.5 percent lighter, elevating it a few notches up the performance chart. Other noteworthy technicals include drag race proven clutch, 5-speed overdrive straight cut transmission, Confederate proprietary suspension setup, and Confederate proprietary wheels – 5-spoke carbon fiber up front and solid disc carbon fiber back rear, shod in Pirelli tires 120/70 ZR19 and super fat 240/45 ZR17, respectively.
Want one? Well, you'd better be loaded – like very loaded, cos' you're looking at $113,900 and upwards for a beauty of such. And that's provided that the 61 units – 31 in raw machined finish and 30 anodized black – being offered aren't already snapped up when they becomes available. To be sure, you can always submit your intent to buy over at their website.