Star Wars series of movies aren't exactly movies that you drink to. Popcorn, probably, but a cold one? Well, likely not a fitting scenario. I mean, it's not like it is the big game, right? Though it would be nice if R2-D2 can bring you a drink or two as you catch up with the six Star Wars movies before hitting the theater for the seventh Star Wars flick, right? Well, in that case, you will be needing the Aqua R2-D2 Moving Refrigerator. Officially licensed, this full-size replica of everyone's favorite astromech droid does not pack any tech from the galaxy far, far away. Instead, it has a gut that's actually a refrigerator, albeit a rather tiny one, that will keep your can drinks chill.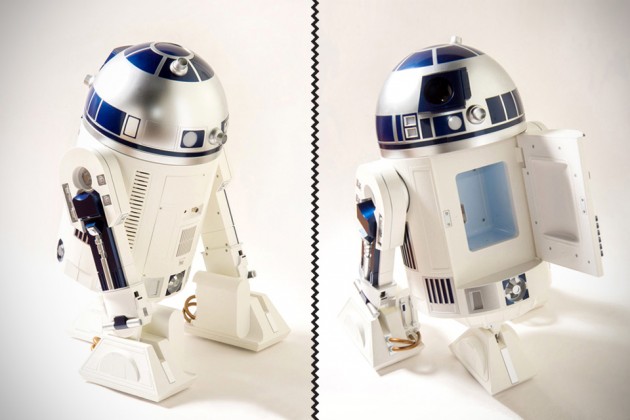 It won't throw out hologram of the distressed Princess Leia either. In place of the holoprojector is a more Earthly, less advanced 720p projector that supports Android's Miracast to cater to your multimedia needs, if that's what you desire when you are sipping on your cold ones. It does have a turning head though and it has mobility too, which is cool. However, this fridge sibling of the much-loved R2-D2 won't move own its accord; it does have a handy remote that will let you command it around and for adjusting the volume of the projector output.
Do not expect functions like periscope, manipulator arms, oil-slick arm and oh, it doesn't have a working clasper arm to serve the can to you; you will have do so yourself. At this point, you may find yourself shortchanged cos' this baby cos' a whopping 998,000.00 Yen, which is around US$8,290 at the time of this writing, and that's whole lot of money for a refrigerator, let along one that this tiny. But the Force of fandom is one that cannot belittled. There's one more not-so-good news; it looks like cutie tin can is only available in Japan. Bummer.