if you are having the turtle fever and all up for one-of-the-kind custom painted sneakers, then you might be interested in what Astrotoft Retros & Customs have done. as might have already guessed, this pair is an Air Jordan given a Teenage Mutant Ninja Turtles makeover. this pair of one-off kicks is based on the live-action movies (not specifically Jonathan Liebesman's, btw) and hence they bears a more realistic resemblance to the 6 feet talking reptiles. it has an green upper, layered with multiple shades for more depth when viewed up close and has thin, waxed leather laces representing the straps across body for holding the heroes' weapons.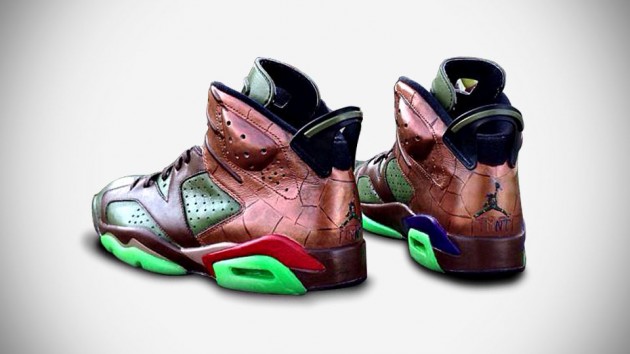 the heels sports subtle turtle shell pattern in brown shade and finished with metallic bronze coating for "a more realistic, just-out-of-the-sewer look" and light tan is found on the midsole and tongue areas, echoing the wraps present on the heroic turtles' angles and knees. while colors are predominately used to represent the characters, Astrotoft Retros & Customs have creatively turned the iconic jumpmen into the turtles jumping. so instead of Jordan, you will find two jumpmen on the tongues and two at the heels – both with matching colors on the instep and the outside air pockets. finally, GID soles in bright green, to present the ooze aka mutagen that causes the turtles and their master's transformation, rounds up this custom package.
looks pretty cool, but i am guessing if you have such a pair, you probably won't wear it often for fear of wear and tear. we are not quite familiar with Astrotoft Retros & Customs' works, but we are assuming those are painted on (as opposed to being dyed), which means they (the colors) are at risk of cracking up and peel off. still, they looks pretty badass and something the turtles could have some use when they hit the court for a two-on-two – if there's even the size for them. as for the rest of us, you can touch base with Astrotoft Retros & Customs via their Facebook page if you are keen to have one custom for you. pricing is, naturally, on request.