so the weekend box office result of Jonathan Liebesman's Teenage Mutant Ninja Turtles was an industry surprise, racking in an estimated $65 million, which surpasses all three previous big screen flicks combined. we can only attribute this to fans and of course, clever marketing efforts on Paramount's part (definitely not because of Megan Fox), which also means that there will be enough fans to care about TMNT themed backpacks, such as this quartet from backpack maker Sprayground. i wouldn't say i am huge fan of the mutated turtles, much less the merchandized or anything TMNT themed, but these TMNT x Sprayground Backpacks looks pretty impressive.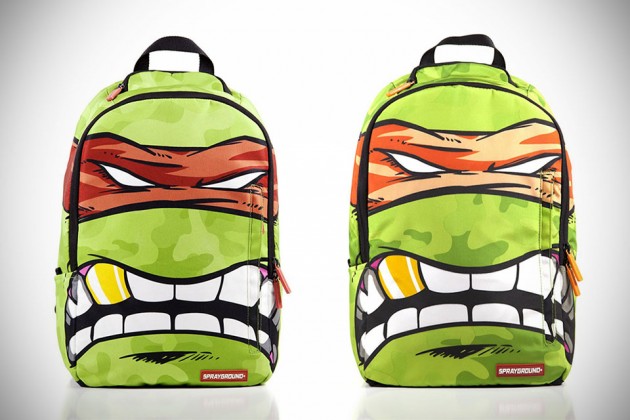 typically, the mere mentioned of TMNT-themed bags will most definitely invoke the impression of a kid's bag (you know, preschoolers' stuff), which are obviously not in the young adults' league. but not with the TMNT x Sprayground Backpacks. the collection of four backpacks, each feature a different TMNT character in a unique, grillz design, which is a far cry from being 'childish'. each bag centers on the respective character's face with their shady eyes peering out from behind the bright bandanas and the turtles' signature lone gold tooth. tastefully and stylishly done, if you ask me, and its of a design that would make a man in the 40s want one too.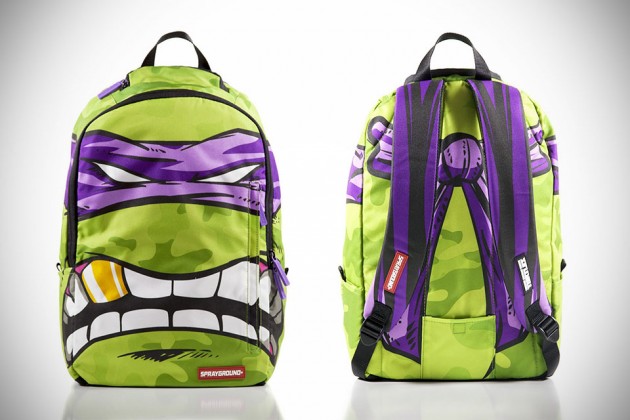 under the skin, the backpack is as functional as it is with other Sprayground's backpacks and it includes a nifty sunglass compartment, stash pocket for small items, a laptop sleeve and of course, an inner main compartment. it is made of durable 600d fabric which is water-resistant (probably not a good idea to splash it with sewer water, though), matched to custom reinforced SBS zippers and shoulder straps. the shoulder straps is naturally, adjustable. available in Donatello, Michelangelo, and Raphael and priced at $60 each. Leonardo is only available through select Bloomingdale store.